Medicus IT Named 2017 National Best and Brightest Winner
Medicus IT was named a 2017 National Winner for the Best and Brightest Companies to Work for in the Nation.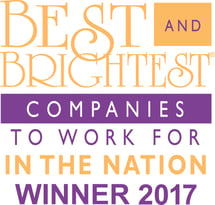 Medicus IT is proud to announce that they were named a 2017 National Winner for the Best and Brightest Companies to Work for in the Nation. They were also recognized in 2016 as a Best and Brightest Company to Work for in Atlanta. Not only were they a national winner but they were one of the top 101 highest scoring winners. Only companies that distinguish themselves as having the most innovative and thoughtful human resources approach can be bestowed this honor.
An independent research firm evaluates each company's entry based on key measures in various categories. They include Compensation, Benefits and Employee Solutions; Employee Enrichment, Engagement and Retention; Employee Education and Development; Recruitment, Selection and Orientation; Employee Achievement and Recognition; Communication and Shared Vision; Diversity and Inclusion; Work-Life Balance; Community Initiatives; Strategic Company Performance and the Best of the Best Small Business.
The Medicus leadership team Chris Jann, Mike Jann, West Ferry, and Mike Belote Were honored to have been recognized. "It is truly an honor to be recognized for the 4th straight year. I have said it before and will say it again, we have the best team in the industry and they make it possible for the company and clients to continuing thriving year over year." Chris Jann said.
About Medicus IT
Medicus IT is one of Atlanta's best outsourced IT support companies. With primary vertical focus in healthcare informatics, Medicus IT sets itself apart from other providers. Medicus IT is an award-winning company with total commitment to delivering first class service, professionalism, and integrity to its customers. Medicus IT is privately held and based out of Alpharetta, GA and can be reached at 678-495-5900 or on the web at www.medicusit.com.
About the Best and Brightest Programs
The Best and Brightest Companies to Work For® is a program of the National Association for Business Resources that provides the business community with the opportunity to gain recognition, showcase their best practices and demonstrate why they are an ideal place for employees to work. This national program celebrates those companies that are making better business, creating richer lives and building a stronger community. There are numerous regional celebrations throughout the country.
MEDIA CONTACT:
Jess Burns
Marketing Specialist
Medicus IT
470-253-3732