Medicus IT Named 2018 National Best and Brightest Winner
Medicus IT was named a 2018 National Winner for the Best and Brightest Companies to Work for in the Nation.
Medicus IT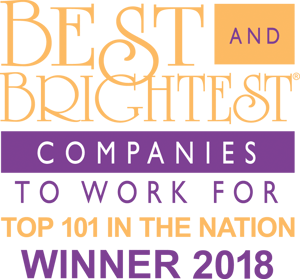 is honored to be named a 2018 National Winner for the Best and Brightest Companies to Work for in the Nation scoring in the top 101 companies nationwide. In addition to being recognized nationally the last five years, we have also been a local winner of the Best and Brightest Companies to Work for in Atlanta the last six years.
An independent research firm evaluates each company's entry based on key measures in various categories - employee benefits, retention, development, and company performance.
Chris Jann, Founder and CEO of Medicus IT, and the leadership team spend considerable time and effort to ensure the best working environment and company goals possible, cultivating a team of dedicated and educated employees.
Chris said, "People are the lifeblood of Medicus IT and every decision we make is influenced by our desire to do right by our employees and clients."
About Medicus IT
Medicus IT is a healthcare-focused Managed Service Provider with locations in Atlanta, GA and Phoenix, AZ. We advise practices on how to establish secure, HIPAA compliant, and efficient IT solutions while continually working alongside them to manage IT operations, further increasing efficiency and stability.
We are an award-winning company with total commitment to delivering first class service, professionalism, and integrity to its customers. Medicus IT headquarters are based out of Alpharetta, GA and we can be reached at 678-495-5900 or on the web at www.medicusit.com.
About the Best and Brightest Programs
The Best and Brightest Companies to Work For® is a program of the National Association for Business Resources that provides the business community with the opportunity to gain recognition, showcase their best practices and demonstrate why they are an ideal place for employees to work. This national program celebrates those companies that are making better business, creating richer lives and building a stronger community. There are numerous regional celebrations throughout the country.
MEDIA CONTACT:
Greg Toler
Marketing Specialist
Medicus IT
gtoler@medicusit.com
470-253-3732