Google is getting more stringent than ever. Why wouldn't they? It's Google. If you missed Google's February's Announcement,, they are ensuring that their users are being protected and secured more then ever. They've tried to push users away from using unencrypted sites for years. However, this is a more force-able approach.
How does this affect you?
Starting July 2018, the new version of Chrome 68 will be released, and all HTTP pages will be marked "Not Secure." A 'Not Secure' warning will display on sites without HTTPS certificates. Time to check your website to confirm your business website is secure. You can check this by entering your website address and ensure it has HTTPS automatically in front of the website address.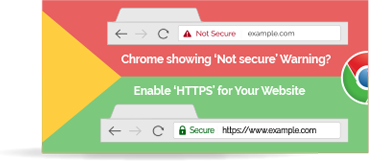 This change is vital for every medical practice or business which has a web presence to ensure your brand is not damaged. Another way to look at this change, the worlds most popular browser will begin to tell more than 50% of your potential patients/clients that your website is "Not Secure." Will they question the security of your website and ultimately the security of their Protected Health Information (PHI)?
Research has shown that trusted indicators affect traffic to your website and the likelihood of patients sharing their contact information, let alone completing accessing additional information like their medical records or filling out online forms.
Chrome's new interface will help its users understand that all HTTP sites are not secure and help move the web towards a more secure HTTPS web by default.
Visit our
Cybersecurity
page for more on how to protect your practice.