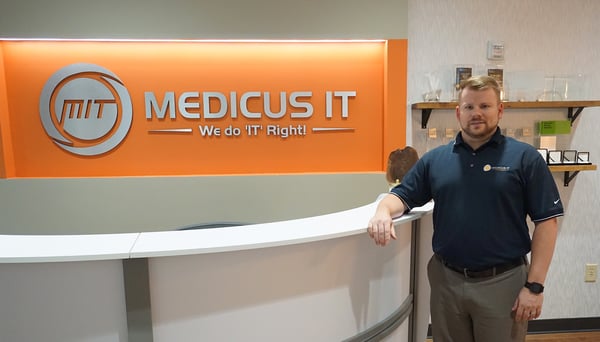 Every month, we'll be highlighting a key Medicus IT team member here in the knowledge center. Get to know our team a little better, starting today with one of our Team Leads and Senior Systems Engineer, Jared Brantley.
Q. What is your role at Medicus IT and what does it entail?
I'm a bit of a "jack of all trades" so to speak. My primary function is to take care of issues for clients, help train and coach our support team as a Team Lead. Additionally, I help identify and develop solutions for problems on a global scale where automation can remediate issues in the future.
Q. Do you have a specialty within your role or something you like doing the most?
I think my team would agree that automation is my specialty. When clients have software that needs to roll out across the entire organization or multiple clients are experiencing the same problem, I break down these issues and look for ways to address them with automation. It's kind of like teaching a computer to fix itself.
Q. How long have you been with Medicus and what is your favorite thing about working here?
I've been with Medicus IT for nearly four years now. The people are the best thing for sure. We have a great bunch of people, and it becomes more like a second family. We look out for each other and help each other with all aspects of work and personal life.
Q. If you could go anywhere in the world where would you go and why?
I love to travel in general. There are many places in this world I'd like to visit. I'm not sure I could pick just one.
Q. What's your favorite gadget and why?
Probably my iPad Pro. This thing goes with me everywhere and is used for everything from entertainment to quick notes for those random ideas on how to better help our clients.
Q. What made you decide to go into IT?
I guess you could say I've always had an affinity for computers and technology in general. After about nine years in the consumer electronics retail space, I decided I needed a change. I bought a book on the CompTIA A+ certification, spent about six months covering the 3,000 pages of information in the book, took a test for certification, then changed my life.
Q. What's one suggestion you'd give regarding healthcare IT best practice and why?
We can do a lot of cool things in the IT world to secure computers and networks from harm. No matter what we do around technological solutions, the human element is the one thing that can override those safeguards. Training your staff to recognize threats and respond appropriately is the most critical practice for securing your organization and protecting your patients.
Stay tuned each month to g
et a behind the scenes look into what makes our team so great!