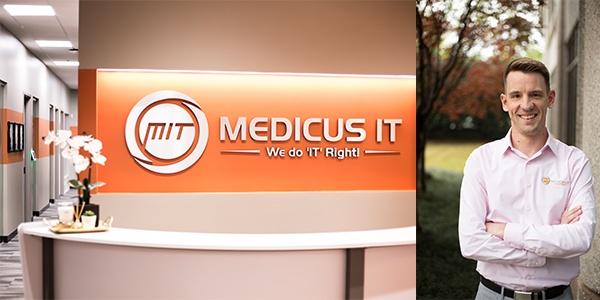 Every month, we'll be highlighting a key Medicus IT team member here in the knowledge center. Get to know our team a little better, starting today with one of our Team Leads and Senior Systems Engineer Justin Brunson!
Q. What is your role at Medicus IT and what does it entail?
My title / role is Lead Engineer and Team Lead. What does that actually mean? I have the pleasure of being an escalation point both for other members of the team and for clients - I assist other team members with more challenging issues, help guide and direct them to the correct solutions in general. I do some amount of "account management," as over time here, I have been able to develop real relationships with a number of our clients. I also get to work on / direct a good bit of our larger project work.
Q. Do you have a specialty within your role or something in particular you like doing the most?
My favorite type of work to do is to plan and execute larger, more complex projects, especially if we are working on something new or something that we as a team have not done before. I love it when things are planned, tested, and organized - if I do my job well, end users don't even really notice that anything has been done, in many cases.
Q. How long have you been with Medicus and what is your favorite thing about working here?
I have been at Medicus for just over 5 years. My favorite thing about working here is the awesome team that we have. I can honestly say that there are some members of the team that I truly love.
Q. If you could go anywhere in the world where would you go and why?
The John Muir Trail - if you have not seen Ansel Adams' work, give it a quick Google - that's why! I really enjoy being in the wilderness, and look forward to getting to hike the JMT in a few years.
Q. What's your favorite gadget and why?
A DeLorme InReach - I don't actually own one, but my hiking buddy does so that he can go, and so that I don't have to have one ;)
Q. What made you decide to go into IT?
When I was in the 4th grade, I broke our family's IBM PS2 (well, messed up the OS...). My dad told me when he got home that he would not be paying someone else to fix it, since I had been the responsible party. I figured it out, and the rest is history.
Q. What's one suggestion you'd give regarding healthcare IT best practice and why?
Back up your data! Bad things can (and at some point probably will) happen, but if your data is properly backed up (and offsite as well!), in most cases, a successful recovery from the bad situation can happen. If you do not have a backup, you do not actually have any data. 2 is one, one is none!
Stay tuned each month to g
et a behind the scenes look into what makes our team so great!