Cybercriminals armed with ransomware are a formidable adversary. Small-to-mid-sized businesses are likely to suffer a ransomware attack. Sometimes, small business IT teams can rely on outdated technology due to budgetary constraints, which is the perfect storm for ransomware vulnerability.
No longer can practices and small businesses say, who would want to hack me, we are just a tiny company. Any company with computers and internet access are a potential target.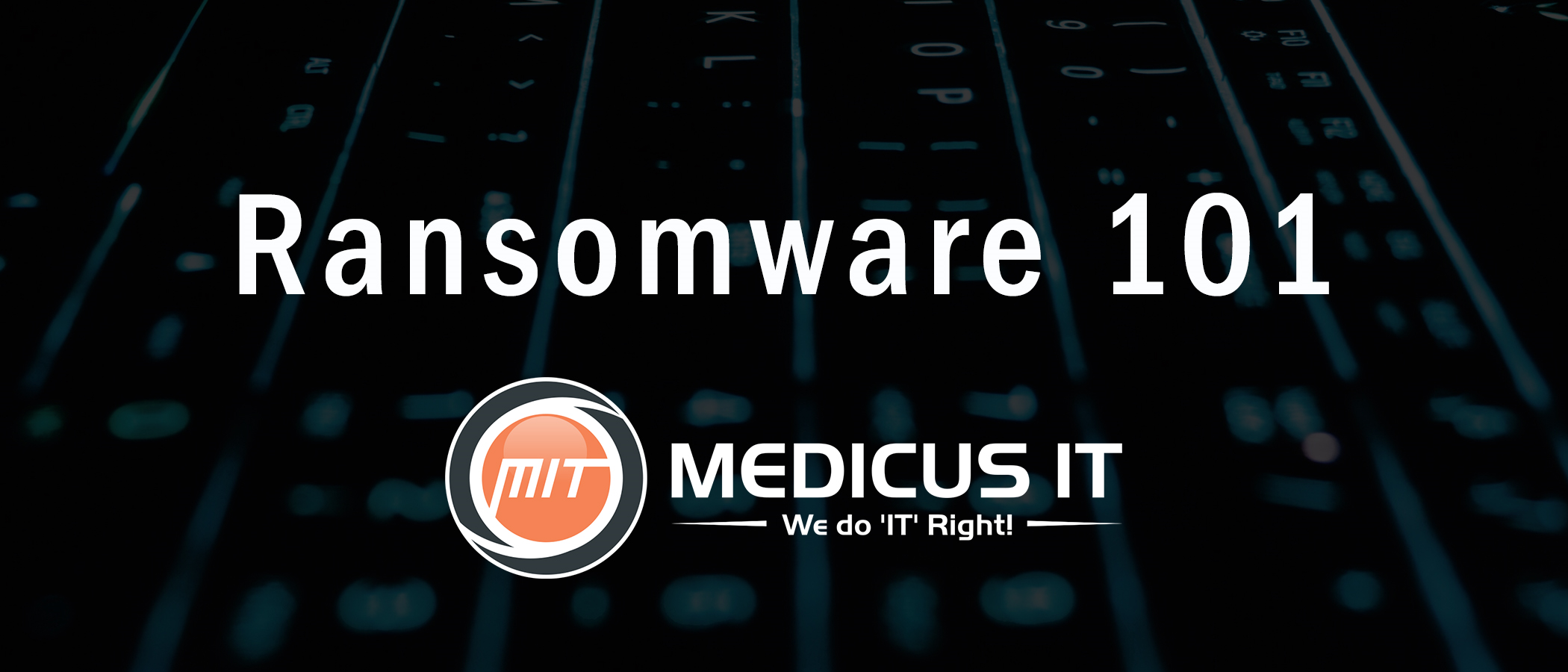 Download the Essential Ransomware Guide for Small Businesses.>>
Thankfully, there are tried and true ways to protect your business against ransomware attacks. Security software is essential; however, you can't rely on it alone. Everyone says, "I have antivirus software," however that alone will not protect you against ransomware.
A proper ransomware protection strategy requires a multi-pronged approach, comprising of education, security, and backup/disaster recovery.
1. Education
First and foremost, education is essential to protect your business against ransomware. It is critical that your staff understands what ransomware is and the threats that it poses.
Provide your team with specific examples of suspicious emails with clear instructions on what to do if they encounter a potential ransomware lure (i.e., don't open attachments, if you see something, say something.).
Complete monthly phishing scam simulations within your company to determine which of your employees need training on how to spot phishing scams. Phishing simulations are also an excellent way for businesses to realize how easy it is for employees to fall victim to these scams so that they can provide additional training to their team.
Conduct bi-annual formal training to inform staff about the risk of ransomware and other cyber threats. When new employees join the team, make sure you send them an email to bring them up to date about cybersecurity best practices. It is critical to ensure that the message is communicated clearly to everyone in the organization, not passed around on a word of mouth basis. Lastly, keep staff updated as new ransomware enters the market or changes over time.
2. Security
Antivirus software is essential for any business to protect against ransomware and other risks. Ensure your security software is up to date, as well, to protect against newly identified threats. Keep all business applications and operating systems fully patched and updated to minimize vulnerabilities. Implement solutions to filter web traffic for known bad websites and block sites not needed for business; consider blocking items like personal email, social media, and more.
If ransomware is detected, some systems can block it and alert users. However, because ransomware is continually evolving, even the best security software isn't close to 100% when you add end users into the mix.
A SIEM/SOC solution is also a useful asset to add to your protection strategy, which automatically logs data on security events. This data is filtered through hundreds of rule-sets to provide threat monitoring and alerting to receive real-time security alerts. Detect, respond and comply with HIPAA guidelines by implementing a SIEM/SOC solution in your cybersecurity strategy.
DETECT
Detect hidden threats on your network, like malware, dangerous website traffic, and malicious user activity before they result in an infection or data breach.
RESPOND
Alerts can be routed directly to your support team to immediately respond and stop cybersecurity threats.
COMPLY
Continuous monitoring of your security logs is required by HIPAA. Our SIEM service meets HIPAA regulations for ongoing monitoring and daily reviews.
Secondary layers of defense are critical for businesses to ensure recovery in the event that malware strikes: backup.


3. Backup
Modern total data protection solutions take snapshot-based, incremental backups as frequently as every five minutes to create a series of recovery points; most commonly every hour. If your business suffers a ransomware attack, this technology allows you to roll-back your data to a point-in-time before the ransomware infection occurred.
When it comes to ransomware, the benefit of this is two-fold. First, you don't need to pay the ransom to get your data back.
Second, you can get your systems back up and be running more quickly. Additionally, some data protection products today allow users to run applications from image-based backups of virtual machines, known as "recovery-in-place" or "instant recovery."
This technology can be useful for recovering from a ransomware attack as well because it allows you to continue operations while your primary systems are being restored and with little to no downtime.