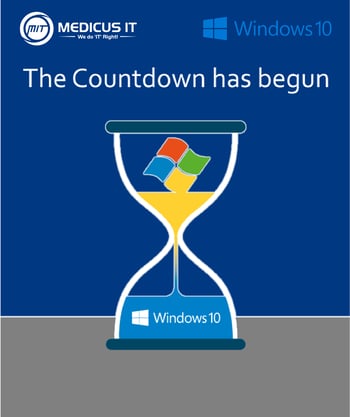 Microsoft's Windows 7 operating system is down to its last year of life! Microsoft will discontinue all system updates, security updates, and Support for Windows 7, Windows Server 2008, Windows Server 2008 R2, and Exchange Server 2010 end on January 14th, 2020.
With the discontinuation of security updates, all systems still running Windows 7, etc, are more vulnerable to attacks and will no longer be HIPAA compliant.
Between now and January 2020, Microsoft is offering "extended support" - paid support and security updates - but no new features will be released.
As for Windows Server 2008, everyone will need to migrate to Windows Server 2012 / 2016 / 2019. Microsoft will also continue to offer bug fixes and security updates through extended until January 2020.
These Microsoft changes affect many aspects of a practice - security, HIPAA compliance, PM/EMR systems, etc - so your IT team will need to confirm all business applications before proposing an upgrade solution.

What Do You Do Now?
Reach out to your IT team to discuss upgrading your operating systems. The process takes time, budgeting, and careful planning, especially if you have a lot of devises.
Next Steps:

1. Identify devices that need to be upgraded or replaced that meet essential (HIPAA) security compliance.

2. Develop a budget for upgrades, replacements and a timeline of when this will occur.
Is your practice/business still using Windows 7 and Server 2008? Do you need help upgrading your operating system, replacing your computers with Windows 10 and Server 2012, hard drive shredding and recycling?
Contact Us.

We're always here to help with all of your IT needs.