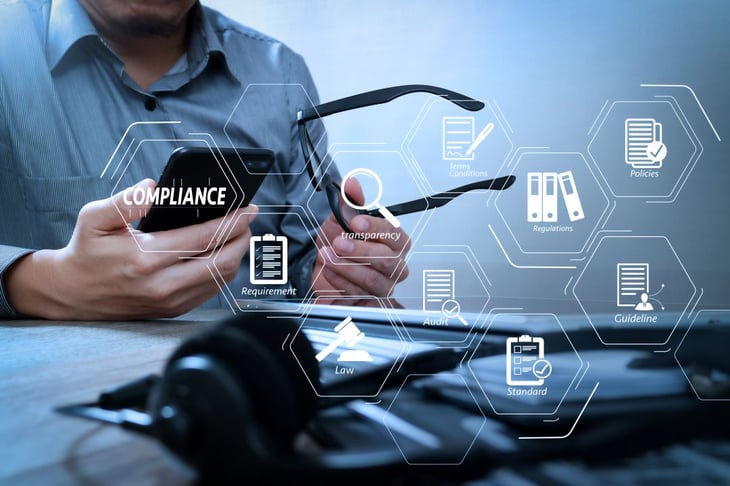 Could your healthcare organization's current phone service be keeping you in the past, creating inefficiencies that affect patient care, staff productivity, and overall facility performance? If you're still relying upon analog landlines, it's likely time to consider switching over to a voice over internet protocol (VoIP) phone service for better flexibility and unified control of voice, text, and video capabilities.
But if you're going to make this decision, you must be certain that the VoIP solution and provider you select as your partner will help ensure your organization not only maximizes the benefits of VoIP but does so in a manner that keeps you in compliance with HIPAA. Read on to find out how to make sure HIPAA compliance is considered in all facets of your digital healthcare communications and what VoIP features are most crucial for healthcare providers today.
Understanding How VoIP Service Relates to HIPAA
At the most basic level, VoIP services convert sound into high-quality data packets that can be encrypted and stored in the cloud. Dealing with cloud data sent either through a phone or an app means you can do things not possible in the realm of basic "phone service." Bear in mind that the same HIPAA rules that govern communication, security, and privacy apply to phone communications, however they are delivered.
Changing to VoIP service should mean less HIPAA compliance uncertainty. Many VoIP providers have fulfilled the responsibilities incumbent with transmitting and storing electronic private health information (ePHI), but this cannot be said for all companies. When selecting a VoIP provider, it's imperative to understand the HIPAA compliance steps that must be met.
The Security Rule and HITECH act
As the counterpart to the HIPAA Privacy Rule, the Security Rule establishes a litany of standards and responsibilities to covered entities and their third-party partners, i.e., business associates, that handle ePHI on their behalf. You are probably familiar with the administrative, physical, and technical safeguards appropriate to your organization, along with the importance of undergoing regular cybersecurity risk assessments. However, you may not be aware that VoIP services bear the same responsibilities to secure your cloud data.
The HITECH Act of 2009 established that any entity that manages ePHI (i.e., stores it on the cloud) — regardless of whether or not they can view or share it — are considered business associates and must enter into business associate agreements with the covered entities they support. How important is it that you have business associate agreements with such vendor partners? In 2019, Touchstone Medical Imaging was fined $3 million for failing "to have business associate agreements in place with its vendors, including their IT support vendor and a third-party data center provider as required by HIPAA."
While there are instances when HIPAA-covered entities can use certain vendors and services without needing to enter into a business associate agreement (see: "HIPAA Conduit Exception Rule"), VoIP service providers do not qualify since, in part, they don't just replace a phone service; they expand it with text, video conferencing, call logs, and recordings. For the sake of protecting your liability and making the most of VoIP functionality, your business should only work with a VoIP service provider that will enter into a business associate agreement with you and is transparent about the steps it takes to best ensure HIPAA compliance. It is a recommended practice to use a service provider with healthcare-specific communications and IT expertise.
Here are some controls your VoIP provider should implement to help strengthen security:
Multi-authenticated user ID access
Role-based user controls
Encryption of stored data
Physical data center control
Risk assessment and real-time monitoring
Activity reports
Benefits of HIPAA-Compliant VoIP Services
Using HIPAA-compliant VoIP services can put an end to constant hardware juggling, dedicated operators, complex conference call logistics, lost messages and prospects, and overflowing voice mailboxes. VoIP apps also make it possible for your company phone system to "live" on remote devices everywhere. This means that you can conduct web chats for patients through a cell phone app connected to your organization and virtual assistants can guide patients through pre-recorded help messages.
In addition, VoIP allows you to record and store communications data with ease — a distinct advantage when you need to retrieve records for HIPAA documentation. These important messages are stored securely on the cloud, reducing the likelihood of lost information or a costly HIPAA breach.
Switching to VoIP is especially important if your organization delivers or is planning to deliver telehealth services, which are increasingly on the rise. AMA Vice President of Digital Innovation Meg Barron estimates that 60-90% of practices are now using telehealth. And FAIR Health data indicates that telehealth claim lines (i.e., individual services or procedures listed on insurance claims) have increased nearly 3,000% nationally from November 2019 to November 2020. Medical claim lines rose from about 0.2% in November 2019 to more than 6.0% in November 2020. It is important to understand that telehealth delivery can get easily step out of compliance if, for instance, a provider uses a noncompliant video app, such as Skype, for patient checkups, and another app for manual text communication.
As noted, the benefits of VoIP extend well beyond compliance. A VoIP service suited for digital healthcare communications helps keep communications more organized by offering seamless video conferencing, text, and recorded voice in one solution, neatly stored on the cloud. The ease and consolidation mean that working remotely is also more feasible for healthcare professionals through a VoIP app.
Getting Started with Healthcare VoIP
Beyond the extra layer of HIPAA-compliance assurance, there are practical reasons to consider switching to VoIP phone service. With less hardware and fewer technicians or sales visits, VoIP creates immediate savings. Since changes to service are simply matters of data usage and number of account IDs, there is little to no wait time or hardware to be installed. The more complex your digital healthcare communications needs and plans, the more you will benefit.
VoIP service will make your organization more flexible and efficient with its digital healthcare communications. No matter the future, you will be able to adapt if you partner with a provider that understands the ever-changing HIPAA landscape.
Medius IT has helped over 2,000 practices meet the evolving challenges of healthcare cybersecurity and take full advantage of their IT opportunities since 2004. As a leading provider of healthcare VoIP solutions, find out how we can help your organization implement healthier communications that translate to healthier patients and a healthier bottom line.