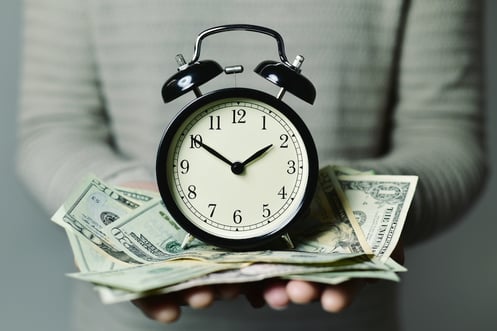 Cybersecurity is an ever-growing issue for healthcare provider organizations. The number of reported breaches of unsecured protected health information affecting 500 or more individuals increased 55% in 2020 over 2019. Meanwhile, IBM's "2021 Cost of a Data Breach Report" found that data breaches cost healthcare organizations more than those in any other industry: an average of $9.23 million per incidence, which is a nearly 30% increase over 2020.
Not surprisingly, spending on healthcare cybersecurity is at an all-time high. It's expected that organizations will invest more than $125 billion in the healthcare cybersecurity market between 2020 to 2025. While increasing how much is spent on cybersecurity should help physician practices, ambulatory surgery centers (ASCs), community health centers (CHCs), and other healthcare organizations strengthen their security posture, the money spent won't help as much as it could or should if organizations don't ensure that their budget is allocated appropriately and intelligently.
With cybersecurity attacks on the rise and organizations needing to address a slew of security challenges, including the increased risk of exploitation of remote work, innovations in ransomware, and the growing number of zero-day attacks, the types of security services and solutions you invest in is more important than ever.
4 Areas of Cybersecurity Focus for Leading Healthcare Organizations
Here are four of the areas where leading healthcare organizations invest time and money that help them better protect themselves from and be better prepared for cyberattacks.
1. Proactive data security measures.
While the healthcare cybersecurity market offers an array of technologies to help providers once a data breach has occurred, organizations that excel in their healthcare cybersecurity efforts also focus on ways to improve their defenses.
To keep your patients' data as safe as possible, start by conducting risk assessments to identify where your organization is most vulnerable and opportunities for improvement. Risk assessments should include a general security risk assessment, vulnerability audit, and business impact analysis.
Best practice healthcare cybersecurity assessments also include a dark web scan, which is a security process that combs through the dark web looking for any data which might have been stolen from your organization, such as usernames and passwords that could expose your facility to future data breaches, and penetration testing, which is a form of "ethical hacking" designed to test the security systems you have in place and identify where you should consider investing in upgrades.
To maximize the benefits of security assessments, it is best practice to have them performed by an external IT provider with expertise in the healthcare industry. The reason you should outsource these types of audits is to help you reduce the potential that risks and vulnerabilities are overlooked, which can be the case when an in-house IT team performs assessment. In-house team members may have the potential for bias. This bias can result in risks and vulnerabilities being overlooked, inappropriately assessed, or prematurely dismissed. This can lead to issues that are not identified until it's too late.
In addition, an expert provider of healthcare cybersecurity services may be able to help you overhaul your data security policies and guide you through a best-practice incident response and remediation plan.
2. Staff preparedness
Organizations that are well-prepared for potential cyber incidents not only invest in data security technology, but they also invest time and resources into staff education and training. This is because human error remains the single most common cause of all data breaches. In fact, security researchers at IBM found that human error was the cause of 95% of all successful data breaches.
Best practice healthcare cybersecurity training should include frequent refresher courses on the basics of healthcare IT security. Staff must also receive training on cybersecurity when any new system or operational process is introduced in your healthcare facility. For example, new working procedures introduced during the COVID-19 lockdowns, such as those around telehealth and remote work, could increase your organization's risks of HIPAA non-compliance and cyberattacks.
Leading organizations also take a more practical, hands-on approach to staff training. For instance, security awareness phishing campaigns can be far more educational and beneficial than taking any online course materials.
Phishing is a common cybercriminal tactic in which staff are persuaded, usually via an email that appears to come from a trustworthy source, to share their personal information or click on malicious links that download malware. During a phishing training exercise, the training provider will simulate a phishing attack on your organization. Any staff members who are successfully tricked by the phishing attack will be identified by the training provider. Those staff can then receive additional security training to better ensure they recognize malicious phishing attempts when they occur and take appropriate response actions.
3. Data security protocols and technologies
The healthcare sector tends to be slower than other industries to adopt new technologies. This is understandable, given that the stakes of incorrectly processing, managing, and handling patient data can be literally life and death — not to mention the complex and ever-changing regulatory context that healthcare organizations must operate in.
Leading organizations take steps to implement best-practice data security technology and solutions to help keep their patients' data as safe as possible. Two such examples are:
Cloud computing. Cloud computing will not only improve your business continuity and disaster recovery preparedness, but it can also help strengthen data security. By leveraging a combination of technologies, policies, risk management strategies, ongoing monitoring, auditing, and various other processes, cloud service providers keep current on what's cutting-edge in data security.
Two-factor authentication. Two-factor authentication is a security measure in which users are required to provide two pieces of security data before they can access sensitive information. An example of two-factor authentication is a password that's coupled with either a code sent to a smartphone, a fingerprint, or a PIN. Two-factor authentication can be an effective way to deter hackers from infiltrating your network.
4. Trust in the experts
Finally, many healthcare organizations, particularly those with 200 or fewer employees, are finding that their cybersecurity needs are best met by working with an IT services provider with extensive healthcare cybersecurity experience and expertise. The healthcare cybersecurity market is uniquely challenging, and specialist healthcare IT providers tend to be more informed about and up to date on the many facets involved in building and maintaining a best-in-class cybersecurity program for healthcare organizations.
Cybercriminals are targeting healthcare organizations of all sizes to try to steal and sell medical records. That's why at Medicus IT, we treat cybersecurity as a top priority 24/7/365. We combine a strategic focus on systems and solutions that help keep organizations out of trouble and patients out of harm's way with incident response and remediation planning that better ensures clients can respond quickly and effectively when they experience a cyberattack. To learn more about why we're considered one of the leaders in healthcare cybersecurity and how we help our clients become leaders as well, contact us today.