Healthcare is undergoing a transformation. Advancements in healthcare IT are helping healthcare providers better meet the growing needs of their patient communities; confront significant challenges, such as the COVID-19 pandemic and aggressive cybercriminals; and leverage solutions that improve the overall delivery of care.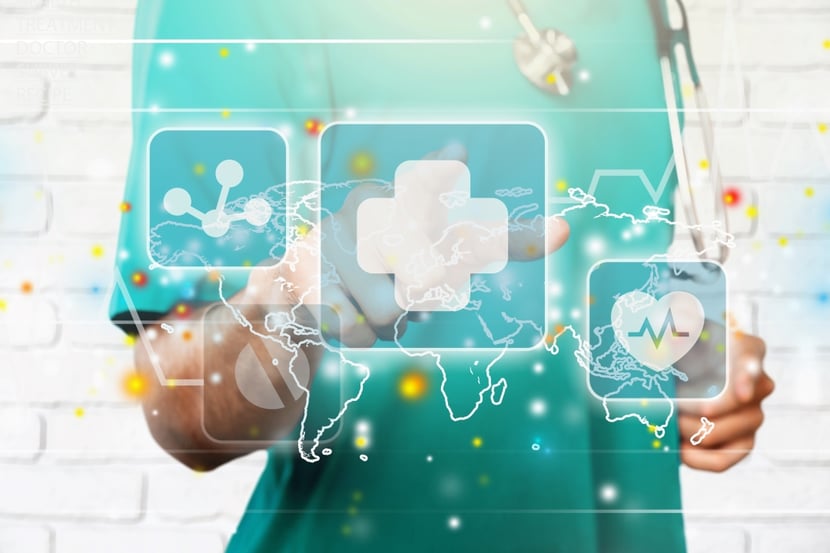 Here is a summary of five of the biggest trends and developments in healthcare IT.
1. Embracing of telehealth
Prior to the COVID-19 health crisis, healthcare providers were gradually adopting Telehealth and offering more virtual services. Once the pandemic hit and brought with it stay-at-home orders and social distancing guidelines, telehealth was essentially transformed from an optional service offering to a required one benefiting patients and healthcare providers. A Medscape article went so far as to declare in April that "A Decade of Telemedicine Policy Has Advanced in Just 2 Weeks."
Organizations are going all-in on telehealth. An mHealthIntellgence article shared the results of physician surveys indicating that 90% were using at least some form of telehealth and around 60% percent were planning to continue following the pandemic. The article includes this quote from Mei Kwong, executive director for the Center for Connected Health Policy: "Telehealth has been the missing element to how we deliver healthcare. But now people are familiar with it. They now have the experience and will want to see it used more often."
2. Cloud adoption on the rise
For healthcare providers on the fence about whether migrating to the cloud is in their organization's best interest, the pandemic may have answered that question. Healthcare organizations with cloud-based technologies have found these solutions invaluable to everything from allowing remote staff to work more effectively and safely (both individually and collaboratively) to launching and growing telemedicine programs.
As a report from Cloud Computing News notes, the healthcare industry was already leading other major sectors concerning cloud use before the pandemic. "This early cloud adoption is a big benefit in the fight against the pandemic as it improves on the ability to analyze relevant data to improve response. Cloud computing is more than just about data storage. It also lowers healthcare IT costs for health facilities as they avoid the need to train personnel, purchase equipment, and provide physical space for the IT people and hardware. Additionally, it eases interoperability by enabling data and system integrations." The publication also highlighted the value of the cloud in supporting telehealth.
The healthcare cloud computing market was projected to experience rapid growth in the coming years. The health crisis is likely to give cloud computing an even greater boost as healthcare providers more rapidly transition to cloud-based solutions.
3. Video collaborating services becomes commonplace
By now, it's probably safe to say that most Americans have used some form of a video service (e.g., Zoom, Facebook Messenger, Skype) to communicate with friends, family, and coworkers during the pandemic. These platforms have also served as mechanisms for healthcare providers to deliver services to patients (e.g., telehealth, as previously discussed). While much of the attention in healthcare has been paid to the benefits associated with leveraging video services to deliver patient care, another value has been somewhat overlooked: supporting efforts by providers to collaborate and communicate with members of their staff and others.
As we've heard from multiple clients, the ability to coordinate planning, response, and recovery efforts using video collaboration platforms (e.g., Microsoft Teams, Skype for Business) have essentially been nothing short of a lifesaver. These platforms not only include video meeting and consultation features, but also personal file storage; team file storage and sharing; real-time file collaboration; chat; and integration with numerous apps and services to further support productivity and teamwork.
Healthcare providers are using these business collaboration services to hold board meetings, review and revise documentation, track tasks, educate and train team members, speak with vendors about the services and purchases needed to safely resume operations (e.g., cleaning and disinfection, personal protective equipment), interview prospective team members, and more. Nearly all meetings that would have previously occurred in person are transitioning to these video business platforms.
While business collaboration services will not permanently replace in-person meetings, virtual gatherings and collaboration are here to stay. They represent a viable alternative that can allow healthcare organizations to maintain social distancing more effectively, embrace some form a remote workforce (if desired), and stay better connected with individuals inside and outside of the organization, among other benefits that can deliver improved staff productivity and efficiency.
4. New opportunities arise for cybercriminals
Cybercriminals are always looking for their next opportunity to take advantage of vulnerabilities, and the pandemic has presented them with significant openings. Healthcare providers — always an attractive target — are even more appealing to cybercriminals during the crisis.
Organizations that raced to add telemedicine offerings may have overlooked security or not given it appropriate attention and consideration. Healthcare providers may have felt more comfortable with doing so because the HHS Office for Civil Rights issued guidance stating that, "HIPAA-covered healthcare providers may, in good faith, provide telehealth services to patients using remote communication technologies, such as commonly used apps … for telehealth services, even if the application does not fully comply with HIPAA rules." But there were conditions to this guidance.
Unplanned growth in remote working and data-sharing can present cybercriminals with an easier means to access patient and healthcare provider information if healthcare staff working remotely lack the necessary cybersecurity safeguards. In addition, as CSO noted, "Healthcare organizations of all shapes and sizes are likely to be under more stress than usual, which may make staff more lax around what they click on."
That's concerning when you consider that Google data indicates there are more than 240 million COVID-related daily spam messages that use fear and financial information to encourage users to respond, reports Healthcare IT News. In April, the Federal Bureau of Investigations issued an alert warning of targeted email phishing attempts aimed at healthcare providers that use email subject lines and content related to COVID-19.
Then there's the matter of organizations gathering particularly important healthcare data. As NBC News noted, "… the increased amount of information hospitals are collecting on patients because of the pandemic, as well as any research that could lead to the development of a vaccine, is highly sought after by hackers working on behalf of foreign governments."
5. 3D printing helps address critical needs
Desperate times call for desperate measures. While 3D printing was a growing industry receiving greater attention for its applications — both established and potential — in healthcare before COVID-19, the pandemic motivated many healthcare organizations to swiftly turn to the technology for help when they were confronted with shortages of personal protective equipment (PPE) and other critical equipment.
As Becker's Hospital Review notes, 3D printing has been used for a variety of applications, from making face masks, face shields, and test kit nasal swabs to transforming airway pressure machines into ventilators. The federal government is tapping into 3D printing's value. The U.S. Department of Defense is using 3D printers to create emergency ventilators, among many other purposes.
Using 3D printing to create healthcare supplies brings risks, as the National Institutes of Health notes. "While it is possible to use 3D printing to make certain PPE, there are technical challenges that have to be overcome to be effective enough. 3D-printed PPE can be used to provide a physical barrier to the environment. However, 3D-printed PPE are unlikely to provide the same fluid barrier and air filtration protection as FDA-cleared surgical masks and N95 respirators."
Despite these potential shortcomings, we can expect 3D printing to continue to play a role — potentially a significant one — as the battle against the COVID-19 virus continues. It wouldn't be surprising if healthcare providers who have not used 3D printing in the past take a closer look at whether the technology has a place in their organizations.
Medicus IT is your trusted partner, in healthcare IT security and HIPAA Compliance. Contact us today to ensure your data is safe.