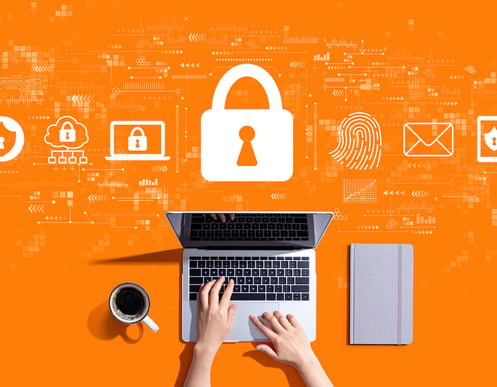 There's really no other way to say it: Healthcare is under attack. Healthcare was the most targeted industry in 2020, and the number of attacks in 2021 look to be outpacing that of 2020. The average cost per healthcare record breached has reached about $500, which is costing healthcare organizations more than $13 billion. It's not surprising that the demand for healthcare cybersecurity services has never been greater, especially when one considers that more sensitive patient data (i.e., electronical personal health record, or ePHI) is processed and stored electronically thanks to rapid digital transformation and the growing reliance on mobile devices and the Internet of Medical things (IoMT) has increased the attack surface hackers can exploit.
Why are healthcare organizations paying closer attention to their cybersecurity needs? The fallout from a breach can be substantial, including state and federal financial penalties, the costs of notifying and risk mitigation for affected patients, and damage to an organization's reputation. A breach can also impact quality of care, and some facilities have needed to shut down their operations for multiple days or even longer in response to a cyberattack. In some scenarios, facilities have ceased their operations entirely because of data breaches.
For many medical organizations, employing and maintaining a large enough in-house IT team with the specialized skillsets needed to support robust and effective cybersecurity for healthcare program simply isn't feasible. That's why savvy organizations are increasingly relying upon healthcare cybersecurity services such as those provided by Medicus IT to strengthen their security posture while also staying HIPAA compliant.
The Benefit of Working With Experts in Cybersecurity for Healthcare
A reputable, experienced healthcare cybersecurity services provider brings many important skills, services, and solutions to the clients it serves. This includes advanced monitoring and analytics tools, the most up-to-date knowledge about cybersecurity threats and best practices, and experts with the right knowledge to help their healthcare organization partners implement the latest cybersecurity safeguards and controls.
Let's take a closer look at several more advantages of working with a healthcare cybersecurity services company.
1. HIPAA compliance is factored into the services provided.
HIPAA requirements are complex. Many healthcare facilities, even with an in-house IT team, struggle to implement all the controls necessary to adequately secure protected health information (PHI). A healthcare cybersecurity services company understands the ins and outs of HIPAA regulations and has the processes in place to conduct the required assessments, generate the appropriate documentation, and implement remedial plans. The expertise helps ensure that an organization not only achieves compliance but also maintains compliance year after year.
2. Healthcare cybersecurity requires the insights of experts.
Cybersecurity for healthcare is a highly specialized field. The latest tools and solutions are only as good as the people behind them. The teams employed by a healthcare cybersecurity services provider have the extensive knowledge needed to implement the latest cybersecurity policies, processes, and procedures. They also monitor a healthcare organization's IT infrastructure and systems continuously, helping to identify early warning signs of an attack and take immediate actions to minimize cybersecurity incidences and costly downtime.
3. Using a healthcare IT services provider gives an organization access to powerful cybersecurity tools.
It's typically cost-prohibitive for small to medium-sized healthcare organizations to purchase and implement all the tools needed to cover their cybersecurity bases. A healthcare cybersecurity services company supports its clients with cutting-edge hardware and software. The company can combine these capabilities in a coordinated approach to maximize cybersecurity effectiveness. The services provider can also leverage solutions like automation technologies to monitor network activities and process alerts so you can respond to threats faster and more effectively.
4. An expert healthcare cybersecurity services provider can help identify vulnerabilities and plan for every scenario.
By working with a healthcare cybersecurity services company, you can receive a thorough assessment of your IT infrastructure, allowing you to better identify risks areas, allocate resources strategically to strengthen your defenses, and eliminate cybersecurity blind spots in your network. Your vendor partner can also help you implement a data backup and recovery plan so that even if you experience a cyberattack, you can better maintain business continuity and minimize damages. Finally, the right vendor partner will help you more effectively develop short- and long-term plans for your IT infrastructure.
5. You can dramatically increase your incidence response time if there is a breach.
Many healthcare organizations get caught off guard by cyberattacks, and the delay in response often leads to dire consequences. A healthcare cybersecurity services provider can help you develop an incident response plan that outlines what to do if you experience or believe you are experiencing a data breach, ransomware attack, or other forms of cyberattack. These include employee action items, professionals to contact, legal and insurance responsibilities, and communication strategies for notifying patients and the authorities.
6. A healthcare IT expert can provide maintenance and surveillance around the clock.
Cybersecurity and compliance must be ongoing efforts. After all, cybercriminals and laws don't take time off. Companies providing healthcare cybersecurity services can support clients with managed security services to deliver 24/7 protection. The always-on approach means your system will be monitored by cybersecurity experts whether you're opened or closed. You'll get alerts and notifications of suspicious activities and the use of unauthorized devices as well as monthly analytics and reporting to help you gain a 360-degree view of your systems and network.
How To Choose a Healthcare Cybersecurity Services Provider
Finding the right healthcare cybersecurity services provider is essential to maximizing the benefits of partnering with a company for cybersecurity. The following are some of the most important services and capabilities to look for when selecting a vendor:
Endpoint protection: To manage the increasing number of devices, including smartphones, computers, and IoMT.
Predictive security enforcement: To analyze data, proactively identify potential issues, and take preventive actions.
Automated breach detection: To monitor endpoints for suspicious activities and shorten response time.
Encryption: To protect sensitive patient information — whether it's in use, in transit, or in storage — while maintaining HIPAA compliance.
Dark web monitoring: To look for leaked credentials that cybercriminals can exploit to infiltrate your network.
Penetration testing: To simulate cyberattacks that can uncover vulnerabilities in your IT infrastructure, improper configurations, and risky end-user behaviors.
Security information and event management (SIEM): To use advanced software to analyze activities and manage alert workflows.
Phishing prevention: To implement software and provide staff training to protect your organization from phishing attempts.
Threat remediation: To identify and resolve threats that could impact the security of your IT infrastructure.
Server and PC management: To ensure that any hardware and devices that store or have access to sensitive data are secure, always kept up to date and disposed of properly.
Medicus IT: A Leader in Healthcare Cybersecurity Services
Hiring an in-house cybersecurity team and purchasing all the necessary technologies will drive up overhead expenses and impact your bottom line significantly. Meanwhile, the potential cost of HIPAA violation penalties and the downtime and remedial actions associated with a successful cyberattack are just as cost-prohibitive, if not more so.
The right healthcare cybersecurity services provider partner can greatly improve your security posture, find and address vulnerabilities, strengthen the protection of PHI, and maximize your investment in cybersecurity. When you partner with Medicus IT, you'll experience these benefits and many more — all while helping your organization achieve and maintain compliance with HIPAA and other requirements. Contact us to learn what we can do for you!