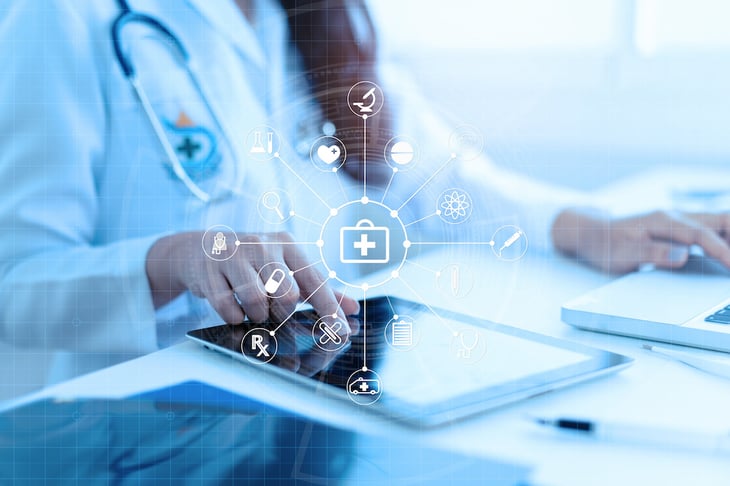 Today's healthcare providers need to deliver a top-notch patient experience to stay competitive. As Becker's Hospital Review notes, "Patient satisfaction is key to sustaining and growing patient volumes in a consumer-oriented healthcare world." As such, seamless and timely patient communication that helps ensure high levels of satisfaction is the key to staying viable.
Furthermore, increasingly stringent industry regulations (e.g., HIPAA ) mean you can't just use any communication tool when handling and sharing protected health information (PHI). Failure to adhere to these rules can not only lead to costly data breaches but also hefty penalties.
To achieve success and compliance, today's healthcare providers — regardless of size — need a HIPAA-compliant communication platform, the backbone of which is a healthcare telephony system using the latest voice-over-internet-protocol (VoIP) technologies.
What's Healthcare Telephony?
Before we get into a discussion about VoIP and its importance for today's healthcare providers, let's take a step back and gain a better understanding of telephony — a term that is unfamiliar to many. As Mitel notes, telephony is the construction and operation of telephones and telephonic systems. It involves the development, application, and deployment of telecommunication services for transmitting voice, fax, or data electronically.
Today, the term encompasses the use of computer hardware, software, and network systems that perform functions traditionally associated with telephone equipment. This is commonly referred to as Internet telephony, i.e., VoIP.
Healthcare telephony refers to the use of telephony technologies by physicians, clinics, surgery centers, hospitals, patients, health insurance providers, and other entities that handle patient information. Due to the sensitive nature of such data, these systems need to meet various regulatory requirements. Healthcare providers need to comply with HIPAA when handling PHI. Such a requirement extends to the healthcare telephony used to communicate about and share PHI. However, most VoIP systems aren't built for encrypted data and transmissions as required by HIPAA. That makes it essential for healthcare providers which are adding VoIP to choose a healthcare IT company that offers HIPAA-compliant VoIP services.
Healthcare Telephony Companies and HIPAA Compliance
Healthcare telephony companies that work with providers are subject to the HIPAA Privacy Rule. It regulates the use and disclosure of certain patient information in specific circumstances, as well as the storage, transmission, and retention of electronic health records.
Healthcare VoIP providers are typically considered "HIPAA business associates" if they offer voice messaging, call recording, chat, and other features that could involve the transmission of PHI. To achieve and maintain HIPAA compliance, VoIP providers must perform the required policy and procedure improvements, documentation, employee training, ongoing monitoring, and physical security audits.
For example, these vendors must ensure the logical separation of the voice and data networks, enforce strong authentication protocol, provide dedicated VoIP servers and VoIP-aware firewalls, encrypt all data and communications, and offer a secure voice messaging system.
When you partner with a VoIP service provider that enters into the business associate agreement required by HIPAA, you can be better assured that the vendor is taking on the responsibility for keeping their voice and video platform and services HIPAA compliant.
Uses of VoIP Healthcare Telephony
Now let's review some of the reasons why VoIP healthcare technology has become the preferred communication solution for providers. A healthcare VoIP service offers many features (e.g., video conferencing, messaging, file sharing, screen sharing, application programming interface (API) integrations) that can help you enhance patient communication, streamline workflows, and improve operational cost-efficiency. Here are seven of the most important ways healthcare telephony is used to improve the patient experience as well as staff and overall organization performance.
1. Remote Collaboration
When you use the latest cloud-based VoIP technologies, you can expect an optimized, crystal-clear voice calling and video conferencing experience with minimum interference. The enhanced quality is essential for supporting collaboration with staff working remotely, on the road, or at satellite locations. In addition, remote collaboration is critical for coordinating care with other physicians and specialists across the country and even around the world — a necessity for the increasing number of organizations delivering telehealth services.
2. Patient Communication
A VoIP platform allows you to handle multiple calls simultaneously and respond to them based on urgency or priority. You can also track call statuses to ensure that patient calls are answered promptly. This feature can better ensure that you're capturing all appointment requests to maximize patient acquisition and retention and, in turn, improve patient satisfaction and outcomes.
3. Automated Scheduling
Today's consumers want the ability to interact with their service providers whenever and wherever that's most convenient for them. With VoIP technologies, you can leverage automated scheduling to capture new and returning patients — even when your office is closed — without added overhead cost.
4. Payment Collection
VoIP technologies can identify patients by associating their phone numbers with their names and account information. This feature can enable patients to pay their bills easily over the phone, often without interacting with your staff. You can get paid faster while freeing up your employees to focus on other revenue-generating and patient support activities.
5. Telehealth Services
Telemedicine is on the rise. Healthcare providers need a robust, HIPAA-compliant communication tool to deliver a modern patient experience. With features such as voice and video calls, as well as text messaging, file sharing, and screen sharing, a VoIP platform helps you seamlessly incorporate telemedicine into your practice.
6. Data Synchronization
Experience healthcare IT service providers that offer VoIP services can help you easily integrate the VoIP platform with other applications that you're already using in your organization so you can synch up patient data in real time to enhance communication and collaboration while minimizing errors and delays. This capability is particularly essential if you're managing multiple locations and need to ensure real-time data exchange.
7. Cost Savings
Using the internet to make and receive calls means you no longer need to pay for long-distance phone charges. VoIP allows you to use your internet service, which you're already paying, for voice and video calls without added costs. Since you likely will not need to purchase a lot of equipment, getting started with VoIP may not require a significant upfront investment.
Healthier Communications for Healthier Patients
The right healthcare telephony platform will help you improve patient experience and increase cost-efficiency. A HIPAA-compliant VoIP solution allows you to take advantage of the latest communication technologies while protecting sensitive patient information.
Seamless communication benefits your patients and your bottom line. Healthcare providers that use Medicus IT's healthcare telephony and VoIP services can achieve savings of 30% or more. Learn more about our HIPAA-compliant VoIP services and get in touch to see how we can help you modernize your healthcare communication system.