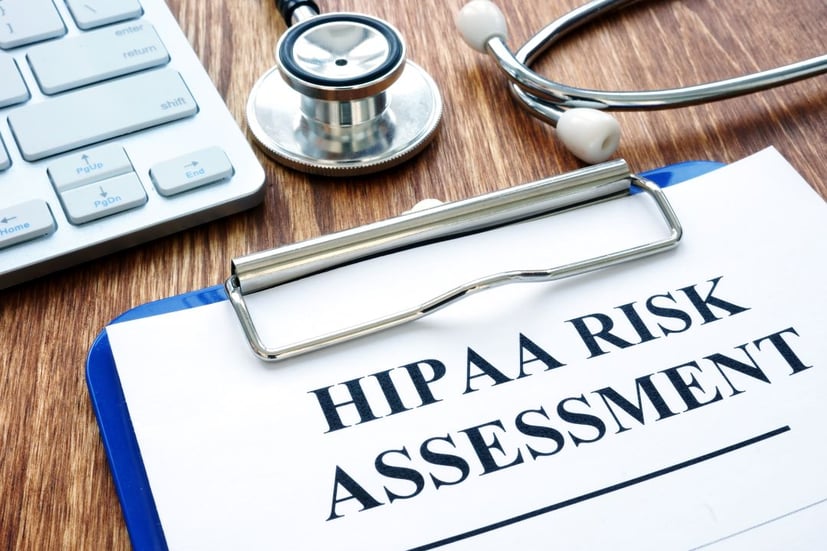 To say achieving HIPAA compliance is important would be an understatement. Healthcare practices are required to maintain compliance to remain open and operational. Violating HIPAA can also have serious consequences for practices and patients.
The consequences and penalties of non-compliance are scary, but they are also avoidable. A proper HIPAA risk assessment is crucial to complying with security standards and achieving compliance. Let's dive into why.
Importance of a HIPAA Security Assessment
If you work in the healthcare industry, you may know that a security risk assessment (SRA) is a requirement by the HIPAA Security Rule and the Centers for Medicare & Medicaid Service (CMS) Electronic Health Record (EHR) Incentive Program. Specifically, a security risk assessment must be conducted whenever certified EHR technology is adopted in the first reporting year.
This is for good reason. A HIPAA risk assessment is a vital part of identifying and addressing all issues regarding confidentiality, integrity, and availability of protected health information (PHI). The HIPAA security assessment pinpoints risks, thus permitting healthcare providers to take appropriate action, implement improvements, and mitigate such risks through physical, technical, and organizational safeguards.
Healthcare providers should take the HIPAA risk assessment seriously — not only because of its role in helping safeguard PHI, but also to avoid penalties. SRA failures are a common precursor for HIPAA penalties. Many Office for Civil Rights (OCR) HIPAA settlement actions concerning electronic PHI (ePHI) breaches involve findings of an insufficient risk analysis. Healthcare providers that struggle with the risk assessment should seek professional help to help identify and address vulnerabilities and avoiding penalties.
Understanding the Rules for HIPAA Security Assessments
Performing a risk analysis regularly is an integral part of a solid action plan for protecting PHI. Within the HIPAA Security Rule, section 164.308(a)(1)(ii)(A) states that a risk analysis is required. Specifically, the Guidance on Risk Analysis states that every practice must "Conduct an accurate and thorough assessment of the potential risks and vulnerabilities to the confidentiality, integrity, and availability of electronic protected health information held by the covered entity." Covered entities are defined in the HIPAA rules as health plans, healthcare clearinghouses, and healthcare providers that electronically transmit any health information in connection with transactions for which HHS has adopted standards. Note: More in-depth guidance concerning risk analysis requirements can be found here.
Acquiring written proof of compliance by conducting a risk analysis doesn't just fulfill a requirement, though. It identifies weak points in the security of your practice, giving you the opportunity to strengthen security and better protect patient information. Without a risk analysis, weak points could go unnoticed, worsen over time, and put your patients' privacy, as well as your practice, in jeopardy.
How HIPAA Security Assessments Help Ensure Compliance
The HIPAA security assessment process, while compulsory, offers many benefits. The assessment is a complete audit of all your healthcare practice's systems, processes, hardware, and more. It analyzes every nook and cranny of your infrastructure.
A well-formed and executed HIPAA risk assessment will find problems and vulnerabilities. Once the areas that need addressing are identified, they can be either fixed or monitored. This way, you are less likely to encounter anything unexpected if your practice undergoes a HIPAA audit.
The preventative nature of an SRA is an asset, as identifying vulnerable systems before problems arise is a great way to avoid possible fines. It is important to note that SRAs will only ensure compliance if executed correctly.
How to Conduct a Proper HIPAA Security Assessment
HIPAA risk assessments are only effective when done thoroughly. As they examine every inch of your infrastructure, the process can be arduous. How can you make sure the job is done right? The Office of the National Coordinator for Health Information Technology (ONC) offers a few resources to streamline the process, one of which is a security risk assessment tool.
This is a tool designed to help small companies through the HIPAA security assessment process. It uses questions to guide covered entities through the SRA process, step by step. Worried about your data security? When you enter information into the SRA Tool, it's stored locally on your device. HHS doesn't receive or access your data in any way.
After completing the assessment, you'll receive your results report. This report can serve as a guide to locating risks and strengthening those policies, processes, systems, and methods that require attention.
An update to the SRA Tool was released in September 2020. This new version of the downloadable Security Risk Assessment Tool is excellent news for healthcare practices working to stay on top of their HIPAA compliance. Resulting from a collaboration between the ONC and the HHS OCR, this tool was created to help streamline the security risk assessment process.
What's New?
If you're familiar with the SRA tool's old version, here is what to expect from the improved SRA tool:
User-friendly interface with modular workflow
Features like custom assessment logic, progress tracking, business associate and asset tracking
Detailed reports
Threats and vulnerabilities rating
The HHS made these updates based on healthcare provider feedback. These additional features make the new SRA Tool easier to navigate while creating a more in-depth risk assessment. They've even expanded exporting capabilities, making reports easy to share and save when necessary.
But before you go all-in on the SRA Tool, you'll want to read on.
The More Reliable HIPAA Security Assessment Method
While the SRA Tool can be a helpful resource, it has some noteworthy potential shortcomings. The federal government notes that the SRA Tool "… is not intended to be an exhaustive or definitive source on safeguarding health information from privacy and security risks." The target audience of the tool is smaller organizations (those with 1-10 healthcare providers), making it possibly inappropriate for larger organizations. Its not available for use on Mac OS. Perhaps most significantly, organizations that only use the SRA Tool to perform their HIPAA risk assessment may overlook the value and importance of engaging with external HIPAA experts.
To best ensure your HIPAA security assessment catches all potential vulnerabilities, your best bet is outsourcing the risk assessment to a professional that specializes in HIPAA compliance. While it is possible for small providers to complete risk assessment without outside help, seeking experts should result in a more professional risk analysis that is thorough and dependable — your goal in protecting data and avoiding penalties as a result of a compliance review. A third-party healthcare IT firm is more likely to provide an objective report that identifies overlooked problems and deficient processes.
The result: You receive an unbiased analysis of your practice's compliance and security posture. In addition, a proper HIPAA security risk assessment includes a consultation where practices have an opportunity to get their questions answered, learn simple solutions, discuss next steps for improvement, and receive training. To gain a better understanding of what you should expect from an assessment, download this HIPAA security risk assessment template checklist.
Make Your HIPAA Risk Assessment a Priority
A HIPAA risk assessment is critical to achieving HIPAA compliance since identifying weak points gives providers the opportunity to strengthen security before issues arise. With a proper HIPAA security assessment, you can better avoid data breaches, safeguard PHI, and save money by avoiding noncompliance penalties.
Value peace of mind? Learn how Medicus IT leverages its extensive experience and expertise to help healthcare providers with all of their HIPAA compliance and health IT software needs. Schedule your free assessment with Medicus IT today.