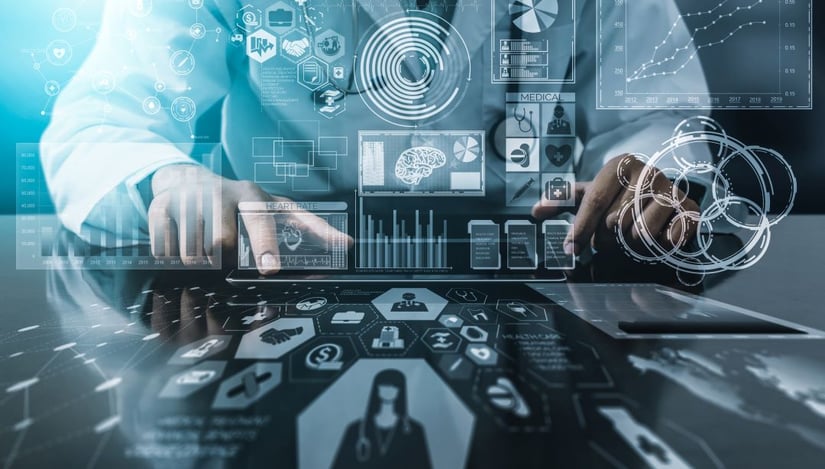 New healthcare technology trends are driving practices to change the way they do business. That's a given. Maybe your practice hasn't changed yet, but it will eventually need to if it wants to remain competitive and successful.
In healthcare, information technology (IT) trends are typically slow to gain traction. But we do not live in typical times. The COVID-19 pandemic has accelerated advancements in technology — in some cases quite dramatically. In fact, the technologies we will discuss aren't really new; they're just newly deployed in healthcare. Let's look at three healthcare IT trends that will change your practice if they haven't already.
1. Telehealth is here to stay
Telehealth, at least in concept, is almost 150 years old. An 1879 article in The Lancet described using the telephone to reduce unnecessary office visits. And in April 1924, the cover of the magazine Radio News depicted a doctor interacting with a patient by sound and a live picture — even though the first experimental television transmission didn't occur until 1927.
These visions started becoming reality a number of years ago, but in a fee-for-service world, it was difficult to make telemedicine a financially worthwhile service. But with the development of value-based medicine and new reimbursement models, that had already begun to change before the pandemic hit.
Citing data from FAIR, the American Medical Association reported that telehealth "rocketed up 53%" from 2016 to 2017. Clearly, telehealth was on an upward trajectory.
Then came COVID-19, which led to a 5,680% increase in its use between May 2019 and May 2020. That's begun to plateau, but there's no turning back now. Of all the healthcare technology trends we're discussing here, telehealth has gained the strongest foothold with patients. They have experienced it, and they like it a lot. According to a May Press Ganey survey, patients are overwhelmingly positive about their virtual interactions with their care providers. In fact, even when there are technical problems, they still give the clinical interaction a high rating.
But patients rated the technology-specific factors and process aspects lower. This feedback highlights the need to address and resolve the technical barriers that can impede consistent and reliable communication. Other opportunities for improvement include ease of scheduling appointments, contacting the provider, and care coordination related to the virtual visit. As Patrick Ryan, chairman and CEO of Press Ganey, said when the survey was released, "If caregivers actively adapt their processes and behaviors to the telemedicine environment, they can effectively build the unbreakable bonds of trust that are so critical to patient-centered care."
The bottom line? Demand for telehealth will increase, as will the expectation that the encounter will run smoothly. A recent report from Accenture notes that because there were few other options for how to receive care during the early months of the pandemic, consumers lowered their expectations for digital health experiences. But as things gradually move back to normal, they will return to their higher expectations.
With the right infrastructure, telehealth represents a tremendous opportunity for practices to focus on the patients who need the most help and offer convenience to the rest. However, if you want to deliver a service that patients embrace, you will need the right technology and support.
2. Chatbots find their place in healthcare
Many industries, such as retail, have used chatbots for years. They're also now commonplace in the lives of consumers: After all, Alexa and Siri are sophisticated voice-activated chatbots.
Again, as with telehealth, the use of chatbots expanded during the pandemic. Organizations have used them to more efficiently reach patients and even triage their needs. Since chatbots are scalable, they can meet an unexpected surge in demand — and they are available 24/7.
Organizations are typically using chatbots to help patients assess symptoms and figure out what to steps to take next. But many chatbots can also recommend treatments, schedule visits, and handle other tasks, allowing practices to devote staff to more pressing activities, as HealthTech Magazine recently reported. They can even express human warmth and empathy which, it turns out, may be essential to their success.
Chatbots in healthcare can boost access to care, as long as they provide the same quality as human agents, according to research published in the Journal of the American Medical Informatics Association published: "The key is to emphasize the chatbot's ability and assure users that it delivers the same quality as human agents." Patients assess chatbot helpfulness based on ability, integrity, and benevolence. Some patients may prefer a chatbot because it makes no judgment, researchers speculated.
3. Artificial intelligence gets patient data under control
Thanks to ongoing advances in consumer tech and digital biometric devices, you will soon be inundated with even more patient data — probably more than you think your practice is capable of using effectively. Healthy patients, with wearables, smartphones, and other trackers, will collect and send data through their devices. Your less healthy patients will be sending biometric monitoring data through digital scales, blood-pressure gauges, sleep monitors, EKGs, and other remote patient monitoring devices. Expect more genetic testing and pharmacogenomic data as well.
With all of this data coming into your practice on top of the data you were already capturing, integrating that data in a manageable way becomes critical. The last thing you need is a pile of unfiltered data. A solution? Artificial intelligence (AI). AI can transform raw data into actionable information. For example, it can calculate the probabilities of disease, generate recommendations for individual patients, and provide population-wide insights about your patient panel.
The use of AI and other solutions that help practices better manage and assess patient data will take on even greater importance since even more data is on the way: The 21st Century Cures Act, enacted in 2016, called for new data-sharing rules for electronic health record (EHR) systems. The rules, slated to go into effect July 2021, promote standardized language and application programming interfaces (better known as APIs) that encourage interoperability across EHR systems and vendors.
As a 2020 health trends report from Stanford Medicine notes, "For an industry that has long struggled with low levels of information sharing and poor interoperability across its technology systems, in 2020 we expect to see the final rules create a seismic shift in how healthcare stakeholders share and interact with digital medical records."
Positioning Your Practice to Benefit From Healthcare Technology Trends
Practices and payers are moving to value-based care, which allows them to improve outcomes while reducing the total costs of care. Providers are increasingly being rewarded for the value of care they provide, not the volume. But value-based care requires sophisticated data collection and analysis — especially with access to integrated data from a range of sources.
It's no surprise that the 2020 Stanford report identified the "rise of the data-driven physician" as one of the industry's most consequential trends. If you've been keeping up with healthcare IT news, you know this is the direction the industry is moving. Physicians are trying to ready themselves for this transformation, according to the report, but few feel adequately prepared.
This inevitable transformation can be a challenge to practices of all sizes, especially when in-house IT departments aren't equipped to adequately and efficiently adapt to technological developments. Medicus IT can help. Let us assess your health IT capabilities — at no charge — and find out how we can equip your practice with the tools it needs to care for your patients by helping you keep up with and take full advantage of the latest healthcare IT trends.