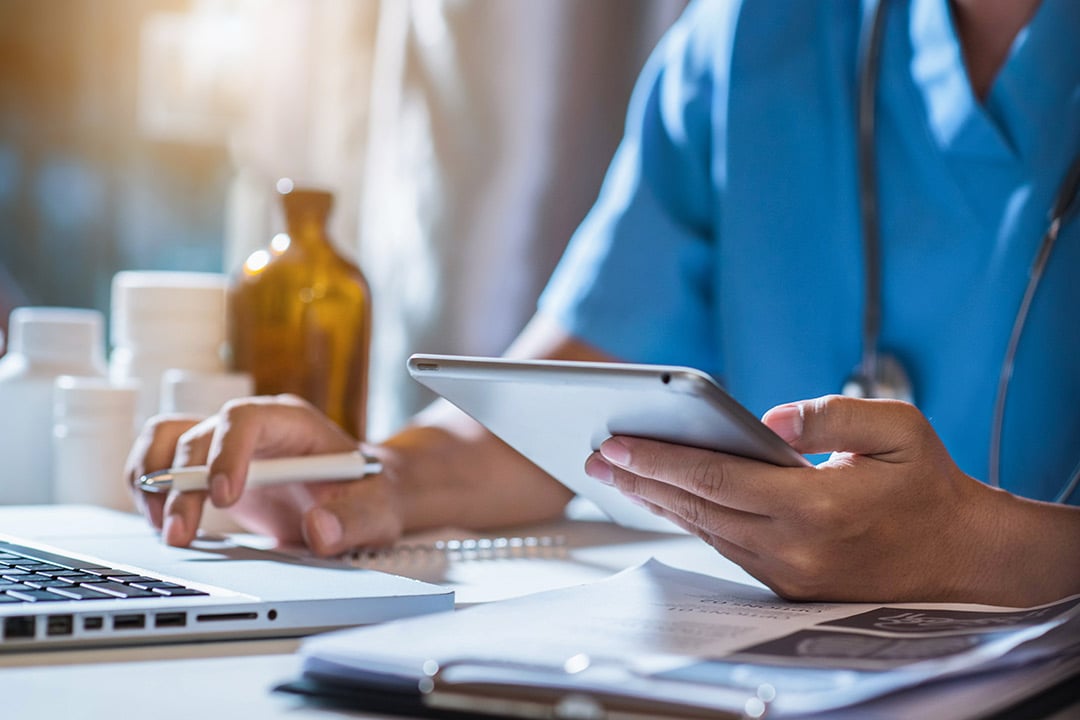 If you work in healthcare, it's vital that you keep your organization HIPAA compliant at all times. But that can be easier said than done. HIPAA guidelines are complex and change frequently. In addition, any changes to your organization, such moving some staff to remote work or investing in new technology, can affect your compliance and put your patients' healthcare information at risk. HIPAA compliance involves monitoring your technical, physical, and administrative processes constantly — and failure to comply with HIPAA can result in massive fines and lasting damage to your organization's reputation.
Fortunately, there's a straightforward and low-cost solution to keeping your practice HIPAA compliant — a HIPAA compliance checklist. This resource can be as simple as a list with checkboxes — either in a digital or paper format — that covers areas of HIPAA compliance and identifies required actions that your employees must complete to best ensure your organization remains secure and compliant. We so strongly believe in the value of such a resource that we created a HIPAA security risk assessment template checklist that you can download here and adapt it for use in your facility.
Here are seven reasons why your practice should leverage a HIPAA compliance checklist:
1)
Checklists
work incredibly well in high-stakes situations.
HIPAA compliance helps keep patient healthcare information secure and ensure the quality of patient care. The consequences of non-compliance that leaves data vulnerable can be serious. Patient data is frequently a target of cybercriminals, and data breaches can be very harmful to patient trust and even patient safety. Practices need effective methods to keep HIPAA compliance a priority and at top of mind for staff, even when a practice is busy delivering care.
A HIPAA compliance checklist helps make this happen. Research confirms that checklists are highly effective at reducing memory-related errors, particularly when people are active, under time pressure, or in stressful situations. That's why checklists are so frequently used for surgery and intensive care.
2) Checklists
create clarity
.
The process of creating, reviewing, updating, and completing a HIPAA compliance checklist can help prevent an area of critical importance from being overlooked. This systematic approach to risk management enables you to detect threats to, and vulnerabilities within, your organization that could result in the unauthorized disclosure of protected health information (PHI). By addressing vulnerabilities, you avoid the potential damage to your brand and patient trust, not to mention reducing the risk of fines for breaching HIPAA guidelines.
3) Checklists help with knowledge management.
HIPAA requires covered entities to assign someone to the role of HIPAA compliance officer. This individual is responsible for keeping your practice on track across all the areas of HIPAA compliance you need to maintain.
However, there is always the risk that if that person is unavailable for the short or long term, certain HIPAA requirements might be missed. A checklist aids in consistency when there is a transfer of responsibility from one HIPAA officer to another.
4) Checklists can help you prioritize.
If you're working from a HIPAA compliance checklist, you will gain enhanced visibility into issues of concern, better enabling you to create and document a plan to address these issues — which is a requirement under HIPAA. Such a level of transparency also helps you place the issues in order of priority according to their risk level.
5) Checklists help you
build a
culture
of compliance
.
Precisely because checklists are a simple risk management tool, they are an effective way to communicate with your employees about issues of priority. Building a HIPAA-compliant healthcare practice isn't just a question of box-ticking. To maintain compliance over time, you need to create a HIPAA-aware culture. That way, if an employee changes a process or updates a system, they know to automatically check for compliance issues or inform the HIPAA officer without being reminded.
Once you have a working checklist in place, make sure that every employee who works with PHI receives a copy. It may be a good idea to introduce the checklist in a workshop to help make sure everyone understands it and any questions or issues are addressed.
6) Checklists can improve
compliance training.
On a similar theme, checklists can help you create more effective HIPAA training programs. Training is a required component of HIPAA compliance programs. By working through a HIPAA compliance checklist, you will be able to create a more comprehensive list of potential threats that might affect your healthcare practice. By working from this list, and reviewing the best practices to avoid these risks, you can create a customized training course that is much more likely to result in positive outcomes.
Training your employees in compliance best practices is far better than correcting bad practices in the workplace randomly as you see them happen. Being proactive is not only the right thing to do; it greatly reduces the risk for your practice.
7)
Checklists support compliance documentation.
The documents used in the creation of a HIPAA compliance checklist also satisfy some of the administrative safeguards within the HIPAA Security Rule. This not only advances your compliance efforts, but the documents may be something you need to produce if your organization is investigated for a breach of PHI or selected for a HIPAA audit.
How Should You Create a
HIPAA
Compliance Checklist
?
The U.S. Department of Health and Human Safety (HHS) does not provide a standardized HIPAA compliance checklist, for the obvious reason that no two organizations will face the same HIPAA compliance risks. That said, we've utilized years of experience to create the customized checklist noted earlier, which can be accessed here. This can be a great place to start as it will give you an idea of the areas you'll need to review for HIPAA compliance.
To create a HIPAA compliance checklist for your healthcare practice, you'll want to partner with a consultancy or managed services provider (like Medicus IT) with HIPAA expertise, or work with an experienced HIPAA officer. Together with your HIPAA partner, begin by conducting a systematic HIPAA risk assessment to identify critical infrastructure vulnerabilities that can put protected health information (PHI) at risk. From there, you will want to review each of the potential areas of risk and create a plan to address them. Finally, you can move on to creating a customized checklist for your organization, considering a broad range of compliance areas including:
Annual audits and assessments
Business associates

Contingency planning

Data encryption

Documentation

Identity management
Patient access

Policies and procedures

Training

Updates and changes to systems and operations
At Medicus IT, we help our clients achieve and maintain HIPAA compliance. We conduct HIPAA risk assessments and help you identify and address threats to patient data security. To schedule your free consultation, click here.