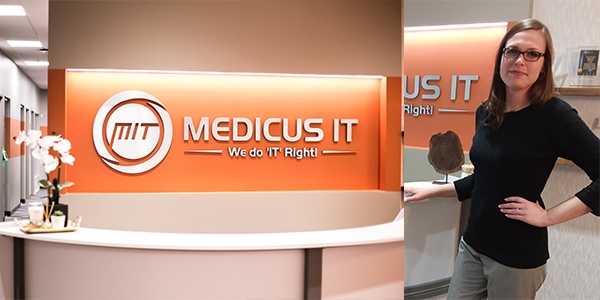 Every month, we'll be highlighting a key Medicus IT team member here in the knowledge center. Get to know our team a little better, starting today with one of our operations specialists Erica Lee!
Q. What is your role at Medicus IT and what does it entail?
My role at Medicus IT is the Operations & Growth Specialist. Currently, I'm facilitating quotes for our products and professional services offerings, as well as helping with process and procedure development on the Tech Support side.
Q. Do you have a specialty within your role or something in particular you like doing the most?
I have worked in this industry for over 8 years now. I really enjoy helping to on-board new clients and building relationships by providing quality customer service.
Q. How long have you been with Medicus and what is your favorite thing about working here?
I have been with Medicus since November 2017, and I am constantly impressed by how fast we are growing! I like the fast-paced environment.
Q. What's one suggestion you'd give regarding healthcare IT best practice and why?
Keeping your critical IT equipment under warranty with the manufacturer and budgeting for proactive replacements can help to prevent a lot of unwelcome surprises and unplanned outages. We can help with this!
Q. What's your favorite gadget and why?
Keeping it simple - I really love my phone!
Q. What made you decide to go into IT?
It wasn't so much of a decision, but more of a stroke of good luck. Technology is here to stay, thank goodness!
Q. If you could go anywhere in the world where would you go and why?
I'm a huge fan of the Outlander books and TV series, so I would love to go to Scotland. I lived in Germany as an exchange student when I was 16, so I would love to go back and visit my host family there as well.
Stay tuned each month to g
et a behind the scenes look into what makes our team so great!