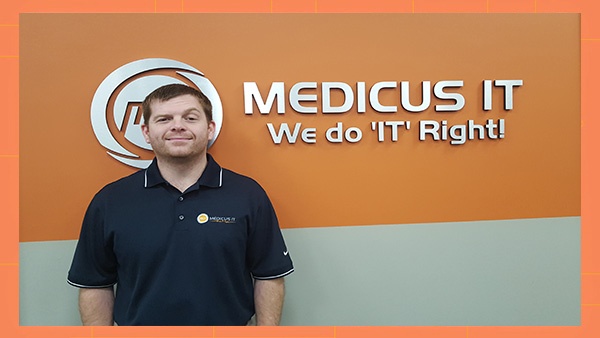 Every month, we'll be highlighting a key Medicus IT team member here in the knowledge center. Get to know our team a little better, starting today with one of our Team Leads and Senior Systems Engineer Rich McCarter!
Q. What is your role at Medicus IT and what does it entail?
Senior System Engineer. The short answer is to handle the more complex issues that occur within our client base. At the same time it is my job to support the team, to make sure that the team can properly help our clients as well.
Q. Do you have a specialty within your role or something in particular you like doing the most?
I think the issues that lack a manual is where I work the best. We have hardware that fails or software that fails and there is no manual on how to fix it, this is where I am most happy. I thrive in the unknown.
Q. How long have you been with Medicus and what is your favorite thing about working here?
I have been with Medicus IT for 10 years. The ever changing environment is what keeps this place interesting. This place has been an adventure from the start and continues to be so.
Q. What's your favorite gadget and why?
Is all of them the right answer? It depends on the day of the week. Currently it is the air compressor with the sand blasting attachment.
Q. What made you decide to go into IT?
I enjoy the satisfaction of seeing either a newly created project come to life or the results of late night troubleshooting that saves an environment. The job can have some weird and tiring hours but often provides a feeling of accomplishment.
Q. What's one suggestion you'd give regarding healthcare IT best practice and why?
Secure your data. This applies to all industries at this point. With so many ways that external entities can get into a network, having the proper security in place is important. Between complex password policies and encryption it can be exhausting to keep track of it all, and at times seem pointless. But a single breach can change your opinion about security.
Q. If you could go anywhere in the world where would you go and why?
Iceland, I visited there once about 5 years ago with the wife and still talk about it to this day. The sights and feeling that you get when there is something that I cannot seem to find stateside.
Stay tuned each month to g
et a behind the scenes look into what makes our team so great!