Alpharetta, GA, December 1, 2022 — Medicus IT, a national leader in healthcare technology solutions and managed services, has just announced the acquisition of ProMedical IT, one of Florida's premier healthcare-focused managed services providers (MSPs) based in Fort Lauderdale. Medicus, ProMedical IT, and Uplift Partners, ProMedical's financial advisor, worked to bring the two organizations together and create a healthcare IT transformational powerhouse in the Southeast.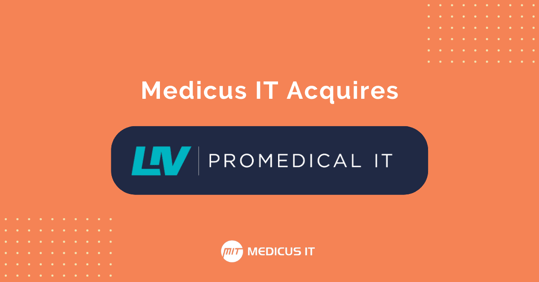 This strategic acquisition, the second for the company this year, will allow Medicus to secure a more significant presence in the Southeast and ensure Medicus continues to be the partner of choice in the healthcare technology space. With its continued focus on innovation and transformation for its clients, Medicus has expanded its national footprint to nine support centers across the U.S. and is one of the largest nationwide healthcare-focused MSPs.
"Our strategic acquisition of ProMedical IT broadens our national reach, boosts our expertise, and enhances our robust portfolio. With this acquisition, we gain an exceptional team that will accelerate our ability to innovate and deliver enhanced healthcare transformation solutions while delivering the ultimate client experience. Now, with centers of support excellence in Atlanta, Orlando, Charlotte, Cary, and Fort Lauderdale, we are the foremost healthcare IT company in the Southeast," said Chris Jann, CEO of Medicus IT.
"Since 2013, ProMedical IT has built a reputation as one of the nation's leading healthcare technology organizations and we are excited about this next step in our growth plan. Medicus shares our mission of affecting positive patient outcomes and technical vision, and together, we will create the nation's leading healthcare IT organization. Through this merger, we will expand our managed services portfolio and nationwide footprint while continuing to focus on EMR/PM Integrations & Support, Endpoint Management, Network Administration, Helpdesk Operations, Automation, UcaaS, Medical Device Operations, Business Continuity, Cloud, vCIO/vCTO and Cybersecurity Services," said Daniel Livschutz, CEO of ProMedical IT.
"We are excited about partnering with Medicus to expand our capacity to exceed our clients' expectations. Our combined capabilities will deliver tangible impact and greater value through transformational strategies, innovation, and healthcare-focused IT. Thereby allowing us to help our clients focus on delivering the best experience for their patients and staff," said Daniel Livschutz, CEO of ProMedical IT.
"The integration of ProMedical enables us to continue improving patient care throughout Florida and the Southeast. I'm thrilled about what we have accomplished, and I look forward to seeing what else we can achieve. Our success is attributed to our long-term vision and commitment to growth and excellence. This merger is another step in our journey that reaffirms Medicus as a trusted technology partner in the ever-evolving healthcare IT space, allowing us to continue our mission of delivering significant value to our clients," said Chris Jann, CEO of Medicus IT.
About ProMedical IT
For over 10 years, ProMedical IT has brought world-class leading technology solutions and vision to healthcare organizations nationwide. Through various execution strategies and advanced technical fabrics, ProMedical profoundly impacted its customers through digital and business transformation initiatives. Its mission has always been to create an environment in which systems run reliably, data is protected, and the end user experience is automated while remaining compliant with government and industry regulations. ProMedical IT is headquartered in Fort Lauderdale, Florida.
About Medicus IT
Medicus IT is committed to helping healthcare organizations leverage technology to optimize patient care and deliver better patient outcomes. Moving beyond traditional IT, Medicus helps its healthcare clients run their IT infrastructure, grow their operations, and transform their organizations. Headquartered in Atlanta, Georgia, with service centers in New Jersey, Ohio, Florida, Arizona, California, and North Carolina, Medicus is one of the nation's top healthcare IT providers, serving more than 6,000+ providers, with over 40,000+ users in over 2000+ locations.
Together, we drive healthcare forward™.