Ransomware attacks cost healthcare organizations millions each year, but finances aren't the most important thing at stake. In many cases, ransomware creates life-or-death situations that impact patient outcomes, care delivery, and even mortality rates. A recent report looked into how ransomware attacks in healthcare can lead to much graver consequences than just a loss of revenue.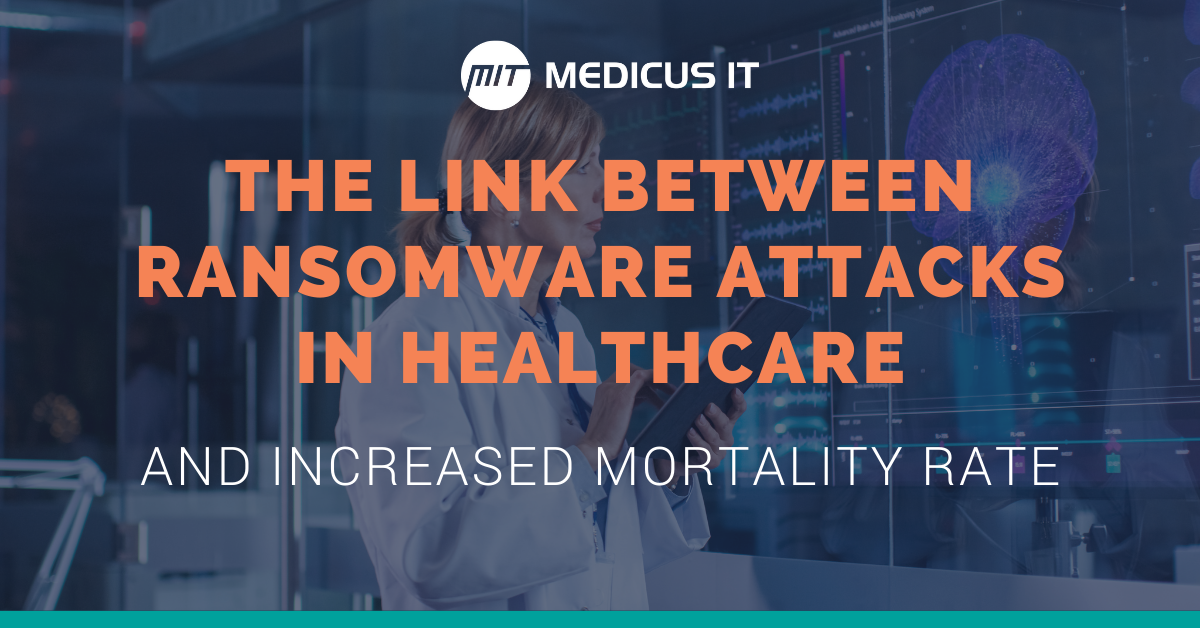 How do ransomware attacks on healthcare organizations affect patients?
Ponemon Institute, an independent research firm, released a report entitled "The Impact of Ransomware on Healthcare During COVID-19 and Beyond." The report shows how ransomware and cyber attacks on Healthcare Delivery Organizations (HDOs) can impact patient care.
Key statistics include:
70% of survey respondents believe cyber attacks have resulted in a longer length of stay for hospital patients
69% of respondents say delays in procedures and tests have resulted in poor outcomes
63% of respondents say cyber attacks caused an increase in patients having to be diverted or transferred to other facilities
23% of respondents say cyber attacks increased the mortality rate
These statistics illustrate that healthcare organizations must transform and strengthen their approach to cybersecurity. Otherwise, ransomware and cyber attacks will continue to impact patient outcomes and contribute to increased mortality rates in healthcare.
How does ransomware impact healthcare organizations?
The impact of a successful ransomware healthcare attack can cripple an organization's ability to provide patient care. When a ransomware attack victimizes an organization and causes its hospital system to go offline, lifesaving technology becomes unavailable and critical treatments and procedures are delayed. In addition to the negative impact on patient care, the downtime caused by cyber attacks can lead to massive financial losses.
The report says 43% of organizations experienced an average of two ransomware attacks in the past two years, and 36% of respondents say a third party caused these incidents. 60% of the respondents say their HDOs had a data breach in the past two years involving 28,505 records and costing an average of $837,750. Cloud application and employee phishing attacks were the primary causes of these breaches.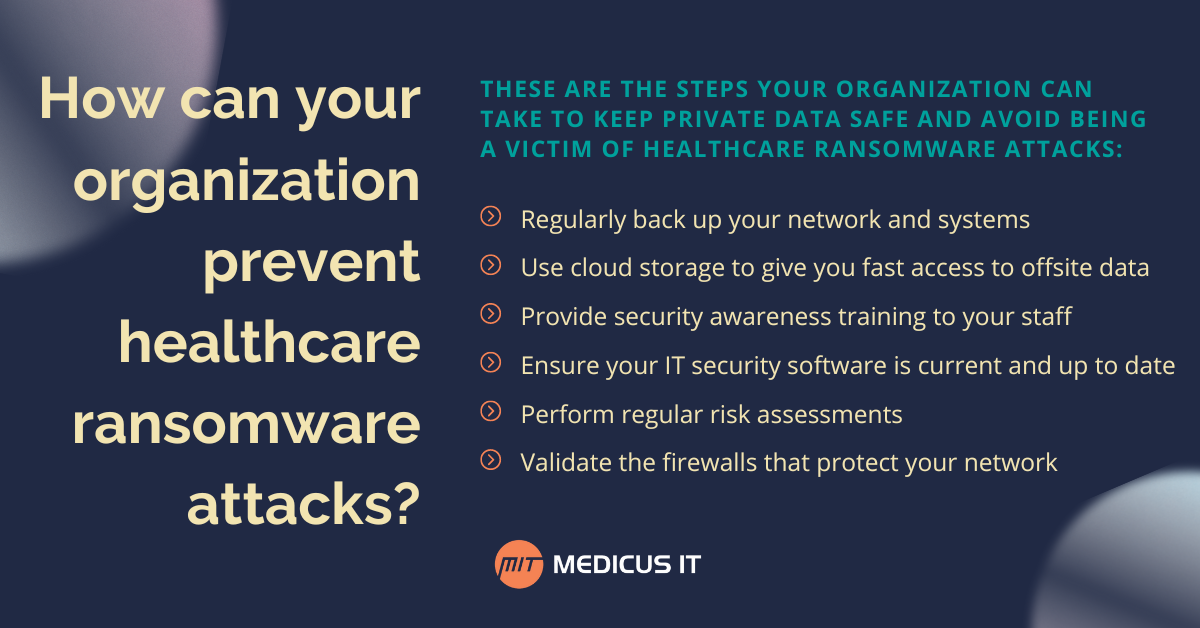 How can your organization prevent healthcare ransomware attacks?
To prevent healthcare ransomware attacks, you need to assume that you'll be hit. No country, industry, or organization size is immune to the growing threat. It's better to be prepared with a contingency plan rather than only build defenses after an attack has been successful.
These are the steps your organization can take to keep private data safe and avoid being a victim of healthcare ransomware attacks:
Regularly back up your network and systems
Use cloud storage to give you fast access to offsite data
Provide security awareness training to your staff
Ensure your IT security software is current and up to date
Perform regular risk assessments
Validate the firewalls that protect your network
There is no one-size-fits-all plan that prevents any healthcare organization from being a victim of ransomware attacks. Be proactive and enable IT leaders to work within your infrastructure and implement an action plan that is effective across your entire organization.
Organizations are taking steps to increase support and resources for a third-party risk management program. According to the report, 50% of respondents are outsourcing part or all of the program to a managed services provider, allocating more budget for risk management, and looking for automated solutions to improve efficiency.
Managed service providers provide valuable support by enabling you to achieve a secure and controlled IT infrastructure. They shoulder many responsibilities that can help increase efficiency and security throughout your healthcare organization. With a managed service provider, you can receive the tools, technology, and round-the-clock support you need to protect your sensitive data from potential online threats.
Protect your patients and healthcare providers from ransomware attacks
While the strategies mentioned above are necessary for protecting patients and healthcare organizations, you may still fall victim to a successful ransomware attack. Planning makes all the difference. With the right tools, software, and best practices in place, your organization can recover quickly with minimal damage done.
At Medicus IT, we are more than aware of the ever-growing sophistication of cyber threats and the value of innovation and technology. In a world of generalist IT practitioners, we understand IT for healthcare. We are healthcare IT solutions specialists who are entirely focused on helping healthcare organizations transform their technology into an asset. We are always attuned to the bigger picture of your IT's overall health and wellness, anticipating critical issues and security challenges rather than simply reacting when a crisis occurs.
It is our mission to enhance the healthcare experience for organizations, providers, and patients by turning technology into efficient systems and proactive solutions that make work more productive and secure. Learn how our customized solutions and preventive strategies are helping organizations like yours make the most of their technology and can help prevent healthcare ransomware attacks. Contact Medicus to get started or learn more about our managed IT services.