A business firewall for healthcare organizations protects your IT infrastructure by monitoring all incoming and outgoing traffic through your network. While it serves as just one layer of your IT security, it is often your first line of defense against potential threats.
There are two general options when it comes to firewalls: standard consumer-grade (or home-use) firewalls and business-grade firewalls. Below, we explore both firewall options to help you find the right tool for the right job.
What is a firewall?
A firewall is a security tool that keeps track of incoming and outgoing traffic in your network. It can be a piece of hardware or software (or a combination of both). Think of it as a trained bouncer or security guard who checks anything that enters your network, keeping guard for malware, bot attacks, and any unauthorized access to your system.
Whether it's a small office firewall or a home firewall, a firewall serves as a barrier between a "trusted network" (your own system) and an "untrusted network," like the internet at large.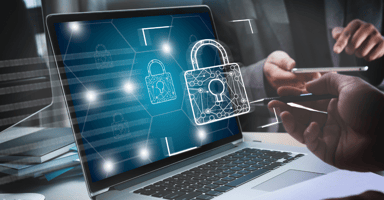 The difference between consumer and business-grade firewalls
Consumer-Grade Firewall

Business-Grade Firewall

Security

Often sacrifices security for speed
Less rigorous specs (basic WPA2 encryption)
Not designed for regular daily business traffic

Offers a much higher level of protection
Has advanced security features like real-time deep memory inspection to block more attacks and web filtering to block malicious sites
Can keep up with large amounts of data traffic

Intrusion Detection and Prevention Capabilities

Basic intrusion detection
More reactive than preventive
Limited ability to see patterns in bandwidth usage and login attempts

More advanced intrusion and detection features
Includes logs that you can access to monitor any unusual activity

Application Management

Little to non-existent application management controls to give you administrative functions

Gives you the ability to prevent unauthorized applications from running
Can limit the amount of bandwidth various applications use
Can apply security policies to ensure safe practices and prevent malware infection

Customization





Customizable to meet the diverse needs of any organization

Upgradability

Not upgradeable
Disposable

Designed with upgradability in mind
Can expand performance and features when needed

Software Updates

Pre-configured
No ability to update software

Regular business firewall software updates from the manufacturer

Warranty and Support

Only available through the retailer
Most consumer firewalls do not come with individual user support

Has full first-party warranties from the manufacturer
Comes with both technical and user support

Compliance

Does not meet security requirements for standards such as CMMC, PCI, or HIPAA

Designed with multiple compliance standards
Benefits of a Consumer-Grade Firewall
More affordable than business-grade firewalls
Easy to use/install (plug and play)
A good option for individual home use
Benefits of a Small Business Firewall
Provides wider protection
More layers of security
Customizable to your organization's needs
Updates are available to provide enhanced security for your IT infrastructure
Ideal for businesses
Let Medicus IT Help You Find the Best Firewall for Your Healthcare Practice
At Medicus IT, we know healthcare IT security and the high-stakes protection, safety, and compliance issues that come with it. We believe in preventive care for IT, and that starts with a strategic focus on the systems and solutions designed to keep your practice out of trouble and your patients out of harm's way.
Day-to-day cybersecurity is more than an IT concern. It's a business concern and an issue of patient trust. It's also a never-ending process. Our managed security services serve as a wellness assessment for your healthcare organization's technology, providing vigilant testing, continual learning, and strategically planned defenses designed to identify and treat potential threats.
In addition to firewall and network protection, we provide other healthcare-specific security essentials, such as endpoint protection, predictive security enforcement, penetration testing, and automated breach detection, just to name a few.
Think about the potential ramifications of cyberattacks and data breaches. Take action and protect your organization now. If you're unsure whether or not you have the network protection you need or would like to know the best firewalls for small businesses or hospitals, contact Medicus IT today.