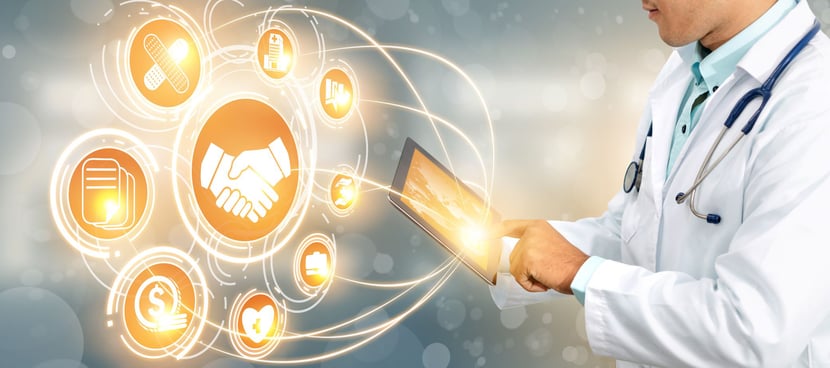 Managed IT services is the term used to describe outsourcing your practice's information technology (IT) operations to an expert third party rather than trying to handle them all with an in-house tech support team. These third-party organizations, known as managed services providers (MSPs), are responsible for some or all of your IT systems and the services associated with them, including systems monitoring, technical support, and issue resolution.
The relationship between MSPs and their clients is defined by a contract known as a service level agreement (SLA). The SLA specifies the fees, conditions, and services provided by the MSP.
A healthcare managed IT services provider specializes in the IT services, requirements, and unique technology stack used in healthcare practices. Their services include data security and compliance management, cloud migration, HIPAA compliance, risk assessment, integrating new applications into IT systems, monthly reporting, data backup and disaster recovery, and ongoing IT support.
Why Do Healthcare Practices Need Healthcare IT Managed Services?
If you run a healthcare practice, you are strongly advised to seek out a specialist MSP to handle your IT services. Here are three reasons why.
1. You are at serious risk of being targeted by a cybercriminal.
According to a national survey, more than 80% of physician practices have already experienced a cyberattack. The healthcare industry is an appealing target for cybercriminals because of its perceived vulnerability. Much of the industry has been slow to adopt new technologies. As a result, healthcare providers are often viewed as easy targets for data theft. Patient data is highly valuable, and therefore at risk of ransomware attacks. Security breaches can be hugely detrimental and costly for medical practices. An experienced healthcare IT managed services provider can help practices keep patient data safe by implementing the latest technologies, monitoring systems for potential risks, and quickly resolving any security breaches.
2. You require highly specialized IT services.
Handling patient data and remaining compliant with overly complex HIPAA regulations can be a major challenge. A specialist healthcare IT managed services provider can make sure that you remain current with the latest rules and regulations. They can also help you to understand how HIPAA rules may impact how you manage information in your medical practice.
They'll also be able to advise on specific healthcare IT challenges, such as managing electronic health records, integrating multiple healthcare IT systems, migrating to the cloud, and adding telehealth.
3) You require round-the-clock IT monitoring and support.
For most healthcare organizations, an in-house IT team does not provide enough support required to tackle today's technology needs and requirements. If you run into technical issues or experience a data security breach outside of office hours or when in-house IT staff are unavailable, you need to know that you have an IT service provider that can immediately spring into action. Whether you work in a clinic that's open late during the week and has weekend hours or in an ambulatory surgery center that schedules its first procedure for 7 AM, a specialist managed IT services provider will be able to offer you reliability and better keep your patient data protected.
What Are the Risks of Poor IT Management?
Healthcare organizations that fail to manage their IT effectively are putting their businesses at risk. For starters, outdated or poorly integrated healthcare systems leave you more vulnerable to a cyberattack. As we've seen, medical practices are at particular risk of data security breaches because of the highly valuable and confidential nature of patient data.
Further, poorly implemented systems can seriously impede everything from operational efficiency to employee morale, leaving you trailing the competition or providing a sub-par patient experience.
But the risks go further. Patient data is extremely sensitive. If improperly managed, it can put you at risk of non-compliance with HIPAA regulations and potentially facing substantial fines. If your backup and disaster recovery systems become outdated, then patient data could be lost permanently. The consequences of data loss in the healthcare industry can be severe — not only can you lose patient trust, but you might even risk impacting patient treatment.
How Are Managed IT Services Implemented in Healthcare Practices?
Once you've selected a healthcare IT managed services provider, you'll start by working together to define the SLA, which will outline exactly what services you can expect and what you'll still need to handle in house. Your new MSP may also conduct an technology assessment to triage your needs and build a plan to implement any needed fixes, improvements, and transitions to new technology.
You may decide that you want to move from on-premises infrastructure to a cloud-based solution. A healthcare MSP should be able to advise you on options that can deliver the benefits you are most interested in, from reducing costs to improving staff performance to better supporting a remote workforce, all while retaining a high level of data security. The healthcare-focused MSP will also ensure that you have a current, automated backup and disaster recovery solution in place to help ensure business continuity. Depending on your needs, the MSP may also set up a new email service to keep your emails secure or implement a modern phone or voice over Internet protocol (VoIP) system.
After the initial setup and integration of any new infrastructure or systems that you require, the focus will shift to risk assessment and remediation planning, including improving and updating your HIPAA data security and compliance measures and protocols.
Depending on the terms of your SLA, you will usually receive ongoing IT support to address any issues that arise or implement new tools and technologies as your healthcare practice grows and evolves. You may also receive monthly reports to keep you informed about the security and performance of your healthcare IT systems. These reports will also put you in a good position to respond to an unexpected HIPAA audit.
Appreciating the Value of Healthcare Managed IT Services
Most healthcare practices simply do not have the staff, time, or necessary expertise to handle their own IT systems safely and reliably. Healthcare IT managed services is a solution to all of these challenges. Whether you're looking to leverage value-based care solutions, migrate to the cloud, grow a telehealth program, improve your security posture, or strengthen disaster preparedness and business continuity, the right healthcare specialist MSP can help turn technology that feels like a burden into solutions that make a significant, short- and long-term difference for your practice.
If you're seeking a preventive, strategic, and deeply experienced managed services provider focused solely on healthcare, you've come to the right place. At Medicus IT, we specialize in providing the technology services and support that medical practices, ambulatory surgery centers, and other healthcare organizations require, allowing our clients to focus on what matters most: their patients.
To find out how we can help your practice improve productivity, strengthen security, reduce waste, and provide a better patient experience, click here to set up a free consultation with a Medicus IT healthcare specialist.