Medical telehealth has been reshaping the healthcare landscape for years, even before the COVID-19 pandemic fueled its growth and rapid adoption. Patients can now receive high-quality care with exceptional convenience through digital tools, and this enhanced provider and patient experience is turning telemedicine into a standard offering for many healthcare organizations.
Why should you incorporate telehealth in your healthcare organization? Below, we dive deeper into telemedicine and explore the many reasons why telehealth is important.
What is Telehealth?
Telehealth utilizes communication technologies to access and manage healthcare services. It is done primarily online using the internet on a computer, tablet, or smartphone, but it can also be provided via telephone chats. These options allow healthcare providers and patients to meet without an in-person office visit.
The Rise of Telehealth
Although telehealth is nothing new, the advancement and widespread adoption of social media platforms, video conferencing apps, and smart devices enabled more providers and patients to use virtual healthcare and experience the many advantages of telehealth.
With the COVID-19 pandemic drastically limiting in-person appointments, healthcare providers and patients turned to digital tools to deliver and receive healthcare. Telehealth medicine fills a need, and the pandemic served as the catalyst for the rising utilization of telehealth.
Benefits of Telemedicine to Patients
How does telemedicine improve patient care? Telemedicine benefits for patients can include:
No travel/transportation time and reduced costs
Patients who see their doctor on a tablet or computer will save money on gas, parking, or public transportation. Further, teleconsults eliminate the risk of wasting time when stuck in a traffic jam.
No need to skip work
A teleconsult removes the need to miss time at the office. Patients can easily schedule their appointment during their break or before or after office hours. Patients can virtually meet with their doctors in any room or space that offers sufficient privacy.
Because of telemedicine's convenience and accessibility, patients can easily maintain their health without missing a day of work.
Healthcare access for patients without health insurance
In hospitals and other facilities, inadequate health insurance can prevent patients from receiving care. Many companies today provide cash-pay telemedicine, which does not require health insurance.
Eliminates child or elderly care issues
Many patients delay their healthcare needs because of their responsibilities caring for children or elderly family members. Seeking alternative care to go to a doctor's appointment can be challenging and expensive, and bringing them along to the doctor's office can be stressful.
Telemedicine solves this problem by allowing patients to meet with their doctor without having to neglect family duties at home.
Access to Specialists
Some patients who require the care of a specialist must travel or use a lot of resources for each visit. Telehealth eliminates these obstacles and allows patients to receive care from providers who are the best, not just the closest.
Lowers the risk of contracting/spreading new illnesses
There is always a high chance of encountering sick people at the doctor's office. By staying at home, patients can avoid sitting in crowded waiting rooms and being exposed to illnesses (or passing them to others) while still receiving care.
Reduces anxiety
Many people don't like doctor's offices. Whether it's a phobia or anxiety that is preventing them from seeking care, patients can now feel more at ease receiving healthcare in the comfort of their own homes.
Better health
Telemedicine allows patients to see their doctors as much as they need to. With more constant communication with their providers, patients become more aware of their health and can better manage their condition, medications, and lifestyle.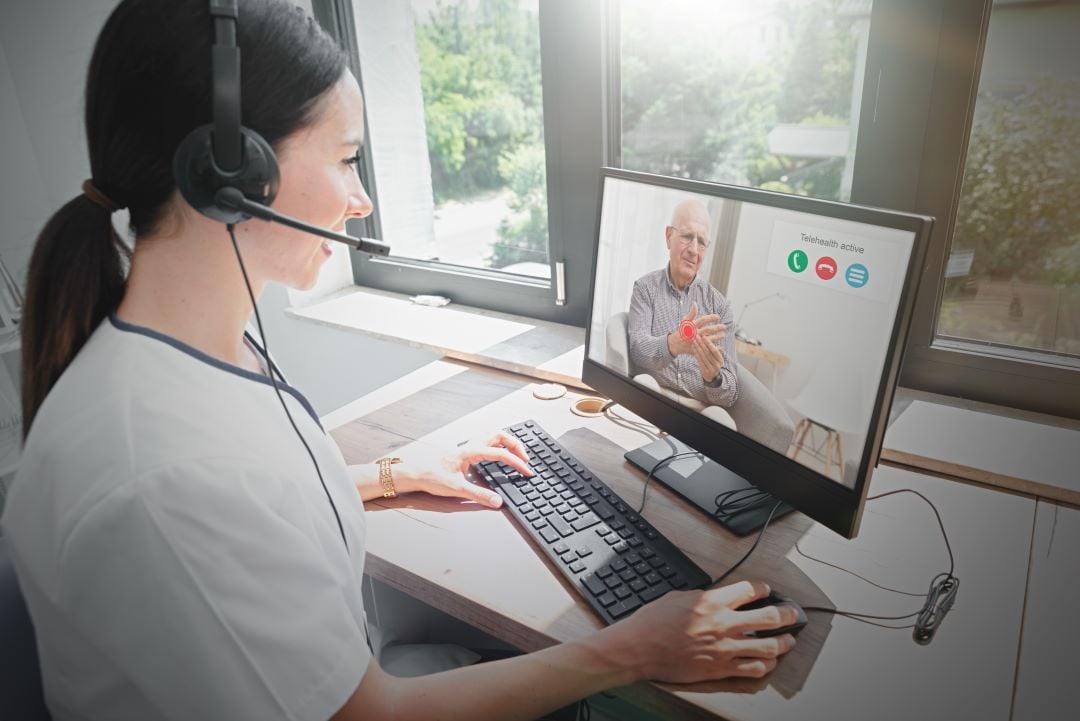 Benefits of Telemedicine to Your Practice
Has your practice or healthcare organization formed a strategic plan to use telemedicine to improve patient care? The advantages of telemedicine in the long term include:
Improved access to healthcare
Telemedicine allows you to expand access to healthcare, making medical services available even to patients in rural areas. From teleconsults to nurse advice lines and call centers, you can see additional patients without the barrier of distance or travel time.
Reduced costs
Telemedicine enables your practice to cut down on operating costs, such as the need for front desk help or examination rooms. Delivering care using technology won't have the same overhead costs that in-person consultations would carry. These savings mean more revenue for your practice.
Improved patient outcomes
Remote patient management enables doctors to have a more intimate look into the lives of their patients. Through remote technology in the form of wearables and other devices, doctors can monitor how their patients respond to treatment and/or medications in real-time. This allows doctors to create a more tailored healthcare approach and provide more effective care, resulting in improved patient outcomes.
Increased revenue
Video visits are more cost-efficient than in-person ones because providers can see more patients during the same period of time. Not having to add more doctors, office staff, or office space means lower costs and more income for your practice.
Reduced patient no-shows and last-minute cancellations
No-shows and canceled appointments are costly time-wasters for your practice. Patients who don't have a reliable means of transportation or live in remote locations are very likely to miss their appointments.
Telemedicine removes the transportation barrier and other issues related to work or lack of child care, allowing your patients to make their appointments from wherever they are. By reducing canceled appointments and no-shows, your practice can improve the efficiency and costs of healthcare.
Improved Work/Life Balance
Telemedicine gives providers the option to work from home or on a part-time basis. This flexibility in work hours helps providers maintain a healthier work/life balance. The ability to conduct video visits from any location also makes providers more confident that they can provide care for their patients whenever needed without sacrificing a lot of personal time.
What Does Telehealth Mean for Your Practice?
Combining healthcare with technology, telehealth will prepare your practice for the future.
In addition to pandemics, there are other types of disasters, such as floods, earthquakes, and wildfires, which could all affect healthcare delivery. Having telehealth tools and systems in place helps your practice stay afloat during unforeseen events.
With technology advancing rapidly, digital devices and systems will only improve and make telehealth more mainstream. If you're looking to modernize your organization with more streamlined processes, increased profitability, and higher patient satisfaction, telehealth is your solution.
Let Medicus IT Help You with Your Telehealth Needs
At Medicus IT, our mission is to better the healthcare industry experience for providers and patients, transforming burdensome tech into systems and proactive solutions that make a real difference daily.
Medicus is the healthcare IT solutions specialist, and we are entirely focused on helping healthcare organizations like yours make the most of technology. We work much like you do – tuned to a bigger picture of overall health for your systems and your data, anticipating issues, and keeping abreast of technological advances and patient needs.
Need a deep look at the technology your hospital is considering implementing? Medicus can help with honest recommendations before and during implementation. Contact us today to get started and learn more about the benefits of telehealth.