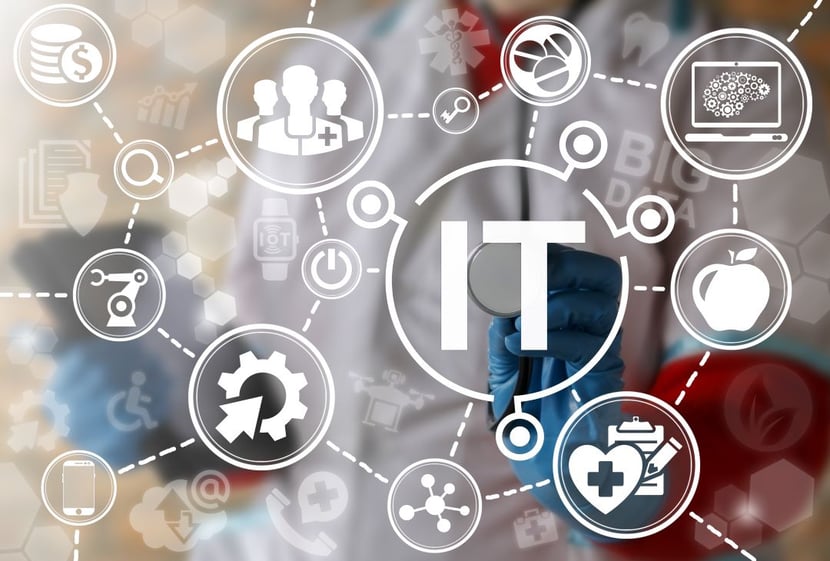 Forget back office versus front office. Every aspect of your practice affects patient care and the patient experience. The decisions you make about how to manage your healthcare IT solutions are patient-care decisions as much as they are business decisions.
However, health IT requirements can overwhelm practices, especially small and mid-sized organizations. They often lack the resources to fully manage their IT systems. That's not a criticism; it's merely a fact.
In the first place, there's simply more data that practices need to capture these days. The data that regulatory and accreditation agencies require can itself be overwhelming.
Increasingly, that data is moving into the cloud, which supports interoperability. Interoperability, once considered the Holy Grail of health IT, is moving closer to reality. By supporting data and system integration, it offers the promise of a complete, vendor-agnostic view of a patient's health. And then there's virtual care. Practices, ready or not, have needed to embrace telehealth and remote monitoring due to the challenges of the COVID-19 pandemic.
Deployed correctly, these innovations could help move the Triple Aim from ideal to reality:
Enhance the patient experience of care
Improve the health of populations
Reduce the cost of healthcare
But getting there from here is a heavy, if not impossible, lift for practices with an in-house IT team. They need outside, expert healthcare IT solutions.
That's where a healthcare IT managed services provider (MSP) can help.
Using a healthcare MSP simply means outsourcing your practice's health IT operations to an expert third party rather than trying to handle it all in house. Services can include data backup and recovery, data security and compliance management, cloud migration, HIPAA compliance, risk assessment, integrating new applications, and much more. (If you need a refresher, see our brief primer on healthcare MSPs.)
Outsourcing to an MSP can enhance the business side of your practice and improve patient care and your patients' experience. We've identified five ways hiring an MSP will not only make your life easier but will also enhance patient care.
1. Protect patient data, protect patients
HIPAA compliance is essential; the penalties for noncompliance are severe. But perhaps the most damaging repercussions? Lost confidence and trust. Patients trust you with their most personal data. Violate that trust and you damage — even destroy — the relationship with them. Data breaches can even have a negative effect on patient treatment, according to a Health Services Research paper.
An MSP can help keep your data secure — and your patients' trust safe — far more than an overwhelmed in-house IT team.
2. Support interoperability, care coordination, and data access
There's no shortage of patient data these days. There's claims, imaging, and lab data, and, increasingly, patient-provided biometric data. The move toward cloud-based solutions makes it possible to aggregate real-time information from across the care continuum, which means patient care can also be coordinated across the care continuum.
But capturing and integrating that data can be a challenge. That's why you may want to turn to a healthcare IT professional services provider. Look for an MSP that supports secure data sharing across health information exchanges, electronic health record (EHR) vendors, and data platforms.
This has a direct impact on patient safety. When data is siloed, a practice does not get a complete picture of a patient. This can lead to medication errors, redundant tests, and missed health problems. On the other hand, when a practice is inundated with unfiltered data, it's overwhelmed. The data is neither useful nor actionable.
To provide optimal care to your patients, you need immediate access to all the data streams presented in an intelligent, actionable way.
3. Reduce burnout, enhance care
Physicians and other clinicians are increasingly burned out. The Medscape National Physician Burnout & Suicide Report 2020 estimates that 42% of physicians suffer from burnout. One of the leading reasons? Technology overload, including reams of unfiltered data. Managing hardware and software is difficult enough; dealing with the data overload is pushing some doctors to the edge.
When that happens, patients inevitably suffer. Burnout drives physicians to retire early or reduce their hours. That's alarming, considering the anticipated physician shortage. But even worse, it can also threaten patient safety when burned-out doctors suffer from impaired attention, memory, and executive function, according to Agency for Healthcare Research and Quality. This can result in poor patient care and significant medical errors.
By outsourcing your IT management, you have less stress and more time to devote to patient care. In addition, the right clinical workflow technology — which an MSP can advise you on and help you select — not only makes your life easier, but also enhances the patient's experience.
4. Enable telehealth and virtual care
Telehealth is here to stay. Telehealth claim lines among privately insured patients increased 5,680% (that's not a misprint) between May 2019 and May 2020, according to the most recent data from the FAIR Monthly Telehealth Regional Tracker. And yes, that growth is driven by the COVID-19 pandemic.
But do any of us think those numbers will go back to "normal" when we finally get COVID-19 under control? Patients, providers, and payers like telehealth, so it's here to stay. Telehealth is one piece in the larger picture of virtual care that incorporates remote monitoring and patient-generated data.
So much can be achieved with telehealth specifically and virtual care in general, but it must be integrated into physician workflow. A healthcare IT solutions provider can help you achieve this seamlessly.
5. Prevent gaps in care
Servers can fail and computers malfunction. Natural and manmade disasters, including cyberattacks, can take down your practice for days — perhaps longer.
There are two issues at play here, both of which affect your ability to provide patient care. Data backup ensures your data is safe. But backup is just one aspect of recovery from a disaster. What about your practice itself? How quickly can you get it operating again? A good MSP provides backup and helps ensure business continuity.
For patients, this means no gaps in healthcare services. You and your MSP will know that you averted a catastrophe, but for the patient, it's business as usual.
Better healthcare IT solutions, better patient care
The marketplace is full of IT solutions providers. Finding the right one — one that focuses on healthcare and can tailor its services to the specific needs of your practice — will enhance patient care. To help identify your particular needs, reach out to Medicus IT, one of the leading healthcare IT solutions providers that speaks the language of healthcare and knows its world inside and out, for a free assessment. We'll identify how you can improve your health IT systems, reduce the burden on your practice, and allow you to focus more on what matters: taking care of patients.