Opportunities for stealing patient information and holding IT systems ransom are more prevalent than ever. Cybersecurity strategies can give your healthcare organization the upper hand when it comes to safeguarding high-value data, mitigating risks, protecting your patients, and maintaining your reputation.
From training your staff and managing password security to performing risk assessments and outsourcing cybersecurity operations, there are many ways you can help secure your organization. Below are 8 cybersecurity tips on how to keep your practice out of trouble and your patients safe:
Train Your Staff
The weakest cybersecurity link in your organization will be the users, so you must ensure your staff members are trained on the best cybersecurity practices. Conduct regular training to educate them on the proper safety protocols, and continually reinforce education and training to enhance your organization's security culture. Proper security awareness training will help your entire staff remain vigilant at all times and use caution when handling patient data.
Limit Sensitive Data Access
Implement access controls by restricting access to sensitive patient information and certain applications to authorized persons who require data access to perform their jobs. Utilize user authentication or multi-factor authentication (either through passwords, PINs, key cards, facial recognition, fingerprints, or eye scans) to ensure better protection.
Additionally, be sure to remove access from terminated employees. You may monitor access history by performing a system audit to check who accessed records and when.
Practice Good Cyber Hygiene
The concept of cyber hygiene is similar to personal hygiene. In the same way people develop habits like frequent handwashing to maintain good health, healthcare organizations must develop habits to maintain the health and security of users, devices, networks, and sensitive data.
Implementing precautionary cyber hygiene measures in areas such as operating system maintenance, configuration maintenance, and software maintenance will help prevent data breaches and other security incidents.
Examples of cyber hygiene best practices include:
Performing backups
Educating and training staff on issues like phishing scams and malware attacks
Using device and file encryption to protect sensitive data
Ensuring firewalls are properly set up
Using strong passwords
Installing the best security software
Keep Software Up to Date
Updating software may seem like an inconvenience, but neglecting to get the latest version leaves your IT infrastructure much more vulnerable to cyberattacks. Hackers will take advantage of users' complacency, and they will have an easier time sneaking into outdated systems than ones with the latest protection.
Manage Password Security
Practice good password habits. Ensure employees use unique and strong passwords, which should be changed regularly.
Store passwords in a secure place, and instruct your employees never to include passwords in shared documents or emails. You may use a password manager system (via a third party or as part of your IT system) that provides a single encrypted application and gives authorized users access through a single password or passphrase and two-factor identification.
Make Mobile Devices a Priority
While mobile devices such as tablets, laptops, and smartphones allow your employees to have seamless access to healthcare data, they also widen the attack surface for cybercriminals. You must secure your mobile devices with the following cyber tips:
Enforce the use of strong passwords
Encrypt application data
Manage all devices, settings, and configurations
Monitor email accounts to prevent data breaches and malware infection
Enable the security feature that allows you to remotely wipe and lock lost or stolen devices
Require users to regularly update their devices with the latest operating systems and application updates
Install mobile security software
Provide cyber security tips for employees and educate them on mobile device security protocols
Perform Risk Assessments
One effective way to avoid complacency is to conduct regular risk assessments. This enables you to have a proactive approach when it comes to protecting your organization against attacks. Risk assessments can help identify the vulnerabilities in your system, the weak points in your security operations, and shortcomings in staff training and education. By constantly evaluating your risk, you can mitigate security issues, avoid data breaches, and adapt to the rapidly changing threat environment.
Outsource Security Processes
Just like technology, the cyber threat landscape is constantly changing, with hackers becoming more sophisticated in their methods of attack. To strengthen defenses and manage information security risks, healthcare organizations will require the services of dedicated professionals with extensive experience in healthcare-specific security strategies.
By outsourcing your security processes, you gain access to specialists with the knowledge, skills, and industry experience that will help your organization stay safe. These professionals mitigate problems that negatively impact clinical outcomes, helping your organization protect patient privacy, deliver high-quality care, and maintain its reputation.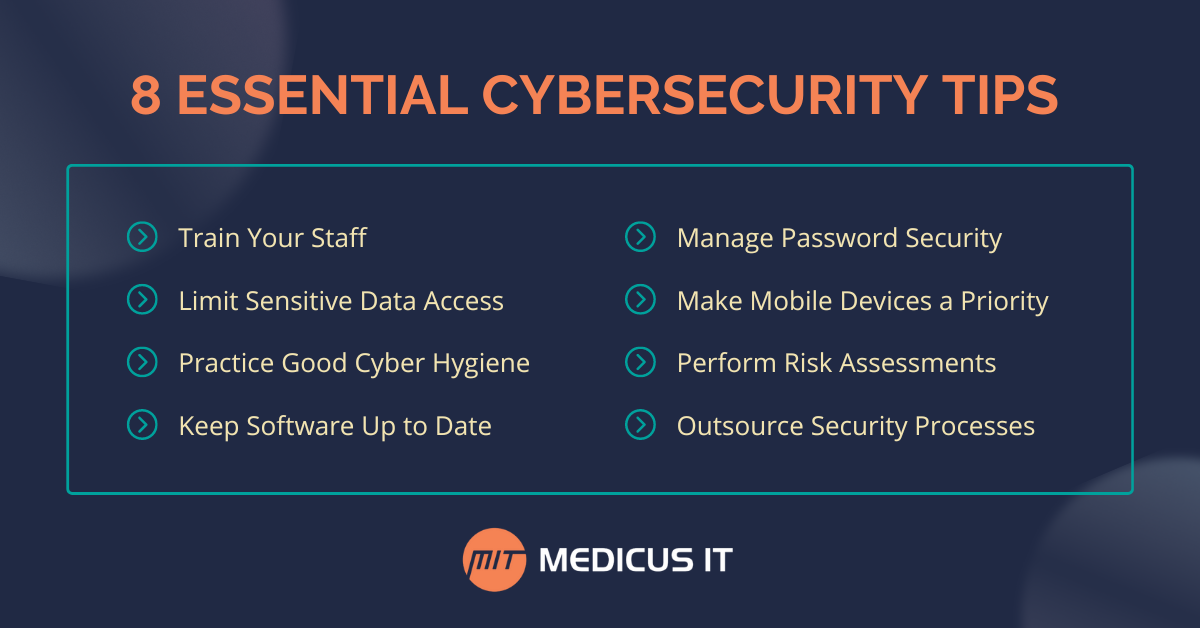 Keep Your Organization Secure With Medicus IT
Medicus IT knows healthcare IT and the high-stakes security, safety, and compliance issues that come with it. We believe in preventive care for IT, and that starts with a strategic focus on the systems and solutions designed to keep your practice out of trouble and your patients out of harm's way.
From network scans and organization-wide security assessments to projections designed to show you how security issues could impact your business, we have a suite of preventive security solutions perfect for your practice.
Medicus' managed security services are like a wellness assessment for your practice's technology. We provide vigilant testing, continual learning, and strategically planned defenses designed to identify and treat potential threats, helping you plan for a better (and safer) tomorrow.
Contact us to learn more about cybersecurity safety tips and discover why Medicus is your IT solution. Together, we drive healthcare forward™