Learn more about what's trending in 2022 and emerging information technologies in healthcare: telehealth, RPM, cloud computing, VoIP, and more.
Information technology is changing the way healthcare facilities interact with, treat, and monitor patients. By giving solutions to patient-provider communication barriers, these technologies are making healthcare more efficient and accessible than ever. Here are some of the cutting-edge IT services demonstrating the benefits of technology in healthcare:
Telehealth
The internet continues to change our day-to-day lives and healthcare is no exception. Telehealth services have been on the rise in the last decade, especially since the COVID-19 pandemic struck. Telehealth is the distribution of health care services and information via technology. Now more than ever, the world of telehealth is a testament to the impact of technology in healthcare. The most common examples of telehealth services include:
Virtual Visits.

Many healthcare providers now offer virtual appointments through video or phone calls. Eliminating the need for in-person visits saves time and helps those living in remote areas receive care faster and easier.
Virtual Distribution of Healthcare Information.

It's quicker and simpler than ever for healthcare providers to send and receive information such as test results and X-rays. This has made the process of specialist referrals more streamlined for patients.
Remote Monitoring.

New technology in healthcare such as sensors and smart bands allow providers to monitor patients' health data and daily activity. These technologies also make it easy for providers to notify patients to take actions like taking medication or performing exercises.
Patient Portals.

These increasingly popular websites and app portals allow patients to access services such as test result distribution, requests for prescription refills, and appointment scheduling without a phone call or in-person visit.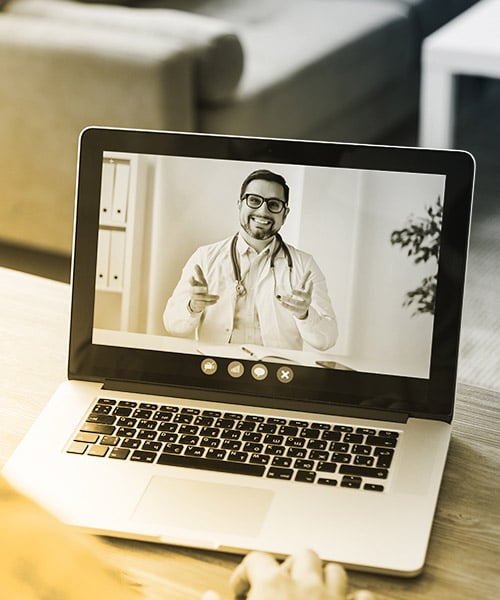 Communication & Collaboration Platforms
Communication and collaboration (C&C) platforms allow members of a healthcare team and managed healthcare service providers to communicate in a HIPAA-compliant manner. These applications allow for a safe and seamless exchange of patient information between physicians, nurses, and other staff. They even integrate with other technology in a healthcare facility like phone systems, labs, and scheduling software. Communication and collaboration platforms can do things like sending HIPAA-compliant messages between staff members, receiving instant notification of lab results, and receiving critical alarm notifications. Facilities are adopting communication and collaboration platforms to eliminate the time-consuming tasks of coordinating care and improving patient safety.
Remote Patient Monitoring (RPM)
RPM technologies from smart bands to implantable devices are changing the way healthcare providers and patients monitor their health data. For those with chronic conditions like diabetes, heart disease, and high blood pressure, this emerging technology in healthcare has been a game-changer. RPM systems increase the efficiency of patient-provider communication and overall quality of care.
Any healthcare professional knows how crucial timely data is when responding to an emergency. Because providers receive real-time data, they can respond quickly to time-sensitive and dangerous health situations. RPM also protects patients with fragile health complications, demonstrating the importance of technology in healthcare for patients who aren't able to travel.
Cloud Computing
The advancement of information technology in healthcare is changing the way facilities store, manage, and share patient data. Perhaps the most revolutionary of these technologies is cloud computing. Many healthcare providers are adopting cloud computing to store and share health records electronically and access RPM data in real time.
Cloud computing is just one example of how the advancement of technology in healthcare is streamlining the way health information is shared between providers. Let's take the example of emergency rooms. Electronic health records allow emergency medical professionals to quickly access a patient's entire collection of health information so they can act fast.
VoIP
Quick, reliable communication is vital to the success of any healthcare facility. Voice over Internet Protocol (VoIP) has revolutionized healthcare by transferring phone calls to the cloud instead of landline wires. Not only is VoIP more cost-effective than landlines, but it also comes with additional features such as unlimited minutes and extensions, toll-free numbers, customizable greetings and prompts, and more.
With this technology, healthcare facilities can collect multiple patient calls at once and sort them based on priority. VoIP can also take care of payment collection and appointment reminders—taking the burden off healthcare facility staff. Because VoIP systems are installed over the cloud, there are virtually no installation procedures involved and no IT professionals are needed for setup.
If you're interested in learning about how our information technology solutions can benefit your healthcare facility, contact Medicus IT today.