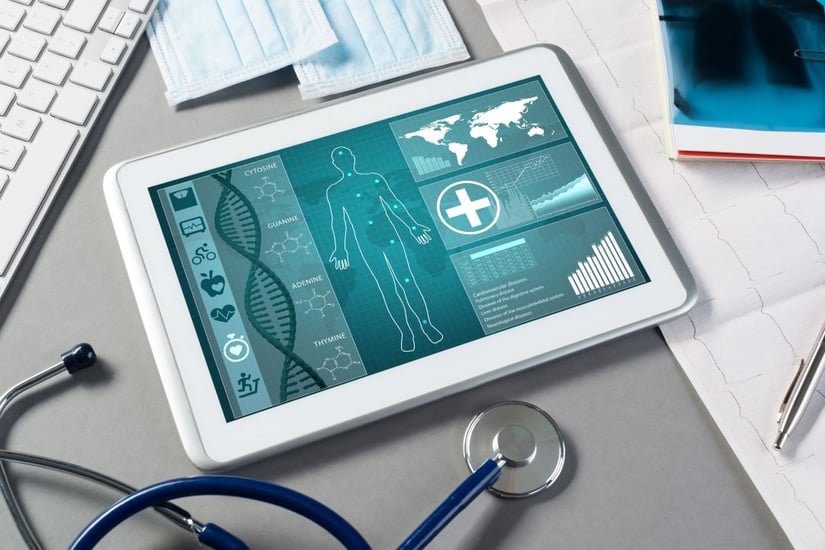 There's no overstating the importance of technology in healthcare today. Advances in technology over the past 20 years have already transformed healthcare practices. And that was before the COVID-19 pandemic sent the demand for digital healthcare technology into overdrive.
In this article, we'll explore six key advances in healthcare IT and how they are affecting medical practices. We'll break down how healthcare IT can have a significant impact on patient care, accuracy, efficiency, and the bottom line. But first, let's briefly discuss the increasingly vital role of technology in healthcare today.
The Importance of Technology in Healthcare is Greater than Ever
Technology has firmly cemented its place in healthcare. Innovations such as artificial joints, precision medicine, advanced imaging, and minimally invasive surgery have transformed patient treatment. Even the seemingly less dramatic advances, such as the shift from paper to digital patient records, have had a significant impact on the quality and consistency of patient treatment and the efficiency of healthcare practices.
The current global health crisis has made the need for technological solutions to help address healthcare issues even clearer. To support efforts to maintain physical distancing, there is an unprecedented demand for tools and techniques to support remote diagnostics and telemedicine. Further, The Journal of mHealth argues that COVID-19 has stressed the need for preventive healthcare systems based on data analytics so we can better detect the next pandemic in advance.
The health crisis has revealed serious issues in even strong healthcare systems, including problems with managing medical supplies, processing paperwork, producing accurate patient data, and ensuring sufficient medical staff during times of high patient influx. Healthcare IT solutions help address these and many more of the wide-scale challenges facing healthcare practices today.
Transforming Healthcare with IT
Here are just a few of the key developments in the way healthcare practices are using technology.
1. Artificial Intelligence (AI)
Increased computing power and technology breakthroughs are enabling an explosion of healthcare IT solutions based on artificial intelligence software. COVID-19 has added an additional urgency to this advance in healthcare technology. In fact, BlueDot, an AI platform, picked up on the coronavirus pandemic nine days before the World Health Organization released its alert. "In the past months," writes Kai-Fu Lee, CEO of Sinovation Ventures, in a Wired column, "AI has been used for [COVID-19] prediction, screening, contact alerts, faster diagnosis, automated deliveries, and laboratory drug discovery."
For healthcare practices, AI technology can reduce costs and increase efficiency by automating processes like managing patient appointments and payments and by optimizing workflows to increase practice efficiency. AI-based chatbots can help handle routine patient inquiries to cut down on unnecessary medical consultations. AI technologies have even proved effective at diagnostics, such as early pneumonia diagnosis.
2. Predictive Analytics
Digitalized patient records may be old news by now — a large majority of office-based physicians have adopted an electronic health record (EHR) system. However, today's advances in big data analytics and artificial intelligence, when combined with a vast and ever-increasing pool of encrypted patient data, allow for the implementation of predictive analytics in healthcare practices. Predictive data analysis aims to notify doctors and caregivers about potential medical events before they occur, helping them to prevent those events from ever occurring.
As a result, this innovation could vastly improve clinical decision making for individual patients. Of the 60% of healthcare professionals using predictive analytics software, 40% report improved patient satisfaction and reduced costs. Predictive algorithms have numerous potential applications for practices, including identifying likely no-shows, strengthening supply chain management, and improving data security.
3. Cloud Data Storage
The healthcare industry is generally considered a leading early adopter of cloud computing for data storage. The advantages of moving to cloud computing are clear for healthcare practices. Storing data in the cloud provides health facilities with improved accessibility and collaboration, strengthened security and disaster recovery, the potential for cost savings. Advances in cloud computing are also beneficial for improving systems integration, allowing healthcare practices to transfer patient data from one system to another, thus helping reduce the risk of human errors in patient data input.
Again, the current global pandemic is proving a key driver for the transition to cloud-based computing. Healthcare facilities experienced an urgent need for flexible access to patient data and fluid data movement. Cloud computing is itself a driver for other advances in healthcare IT, including telehealth solutions. In the words of business consultancy Frost & Sullivan, "The COVID-19 crisis has accelerated the strategic shift to view the cloud as a technology enabler."
4. Telehealth
The need for physical distancing during the pandemic has increased the use of telemedicine and mobile health solutions significantly. For instance, McKinsey reports that 46% of U.S. healthcare consumers are now using telehealth to replace canceled healthcare visits. Healthcare practices are seeing up to 175 times more patients via telehealth than they did before COVID-19.
Advances in telehealth have the potential to make a huge impact on patient care and health practice costs. Healthcare visits via video conference can make healthcare more convenient for patients, increase access for patients with reduced mobility or limited access to local healthcare services, and may even improve patient outcomes. McKinsey also reports that telehealth solutions for chronic populations may reduce the cost of care by 3% or more.
Telemedical treatment should also reduce the number of patients waiting for in-person healthcare visits, thus making the primary healthcare system as a whole more efficient. Again, the importance of IT in healthcare is clear: telehealth depends on a secure, reliable platform to ensure patient confidentiality, manage medical billing, and handle electronic prescriptions, among other purposes.
5. 3D Printing
The urgent demand for personal protective equipment (PPE) and other critical supplies created by the COVID-19 has led to a surge in interest in 3D printing. While printing healthcare supplies is not without risks, a growing number of healthcare providers are turning to 3D printing technology to address needs.
3D printing advances have the potential to transform many aspects of healthcare delivery. For example, as an article in the Journal of the American Academy of Orthopaedic Surgeons notes, "3D printing advancements have improved the way orthopedic surgeons can approach both common and complex cases. Advanced imaging studies can be used to create musculoskeletal models, which can then be used to create custom orthopedic guides and instruments. Similarly, -D printing is being applied to improve the field of biologic therapies in orthopedics."
6. Wearables
Wearables are one of the clearest examples demonstrating the ever-growing importance of technology in healthcare. Some wearable devices help patients monitor their weight and physical activity; others may support disease management or patient rehabilitation. According to HIMSS, some researchers believe that "… wearable technologies could improve the quality of patient care while reducing the cost of care, such as patient rehabilitation outside of hospitals."
While most wearables are still a work in progress, many already have the potential to support the work done by healthcare practices. For instance, medical practitioners could help patients live a healthier lifestyle by setting goals and then tracking progress with a wearable device to reduce sitting and increase physical activity. Other devices could be used to monitor key health indicators, such as blood sugar, blood pressure, body temperature, and heart rate, and thus trigger patients to seek medical treatment before their health situation becomes critical.
As these advances show, the importance of technology in healthcare is increasing every day. We're in the midst of global healthcare crisis, and many healthcare practices are seeking ways to more efficiently manage increased patient numbers and rising costs. Technology can help medical practitioners effectively respond to the challenges they face today and will face tomorrow.